If you're new here, you may want to subscribe to my tasty updates.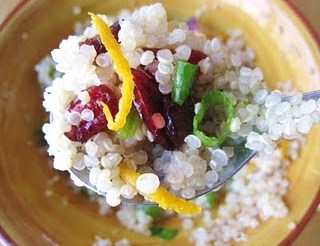 Quinoa Salad with Cranberries, Scallions & Orange Rind" />
Craving
something sweet and good for you? This
quinoa
salad is the answer. I also made this in a pinch with some
quinoa
I had made the night before so the quantities are rough.
Handful of sweetened dried cranberries
1 scallion, chopped
1 tablespoon orange rind
1
tablespoon
red wine
vinegar
1teaspoon extra virgin olive oil
Directions:
2. Place 1/2 cup into a bowl
3. Add remaining ingredients and mix