Last weekend, I decided to take a road trip with the kids all the way down to South Carolina. Yes, my shoulders are still sore from doing all of the driving myself, but we have had so much fun that I will simply beg my husband to give me a massage when I get home.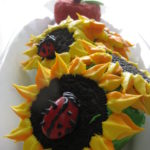 The first day we were here, we had a big cupcake decorating party with our host family and their neighbors. I think the kids decorated about five dozen cupcakes. Now, I had received the copy of What's New, Cupcake a few months ago and had some chocolate covered sunflower seeds that I was aching to use so yes, I brought them all the way from home.
Imagine my surprise when I got here to find that they had the book Hello, Cupcake? on the table with all of their favorites marked. Here are some of the beauties they created.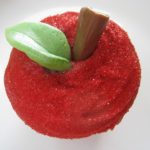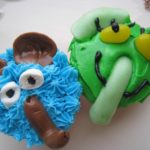 Before you are off for the weekend, here are my posts from The Family Kitchen this week:
A Feature on Scanpan: Did you enter the Giveaway on this site yet?
Tomato Week is celebrated with Grilled Salmon with Tomatoes & Basil
A New Food Magazine that I have discovered
Crostini Crazy – Tomato, Basil & Hummus
Later Today a piece on National Lemonade Day