On Tuesday, our day began by taking a bus to the Williamette Offices where we were live on TV with a local station. The weather man had been there since early in the morning doing cooking segments with Chef Saad and the world's fastest omelet maker. It was fun and we were all in awe how quickly the man could give so many weather details. It made me laugh as the RI weather person has a much easier job; She simply gives condition in Providence and along the coast.
We then moved on to the farm to see the chickens (organic, cage free and conventional systems) and how egg production works. We had to put on some protective gear – don't I look stylish?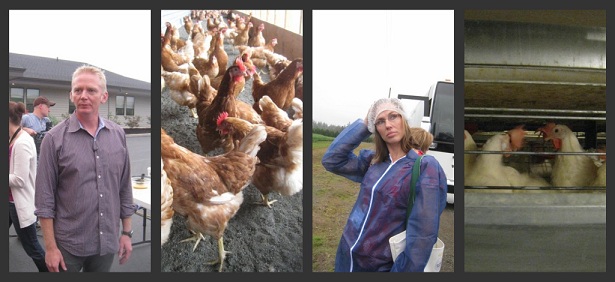 Then while listening to the owner of the farm talk to us in the free range area, one of the hens flew up and landed on my shoulder! Luckily, I did not panic but if I had been pecked, it may have been a different reaction. Then onto the egg processing plant and the egg separation facility.
Part II later today includes lots of cooking and sweating.