This week marks our 9th Wedding Anniversary and to celebrate, we went to Freeport, Maine this past weekend. We were actually guests of the Hilton Garden Inn in Downtown Freeport as part a trip for TravelingMom.com (I write as Rhode Island Traveling Mom).  There is much to share about the hotel and I will write it in detail later this week for TMOM but for now, here is a summary.
We arrived early Friday night after some weather delays and after a quick change, joined others at Azure Cafe. We all sampled the tasty appetizers and some wine. For dinner, I had Beef Tenderloin Balsamico while my husband had Seafood Stuffed Haddock. Then for dessert we had Vanilla Bean Cheesecake.
The next day grabbed breakfast at 'Isabella's Stucky Buns' (I had eggs and sweet potato hash browns) and then we hit the outlets. After a few hours, we grabbed some coffee and tried to get a peek at Patrick Dempsey. YES, I said McDreamy. He was there was part of The Dempsey Challenge bike tour to raise money for Cancer Research.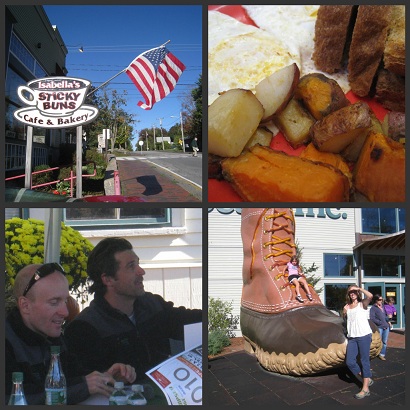 After that excitement, we were ready to eat lunch before exploring the coastline so we went to Gritty McDuff' Brew Pub. My husband started with Halloween Ale while I stuck to water and we tried some Fried Calamari Buffalo Style. For lunch, I had Portobello & Onion Melt: Sliced Portobello Mushrooms, fresh baby spinach and onions, topped with smoked mozzarella on garlic herb roll. My husband had Shepard's Pie.
 The best part about the pub is the fun atmosphere feel as you head outside, there is a great deck, a field you can all run around in and this super cool playhouse for kids with a swing set off to the side. Dessert you ask? We stopped at Wicked Whoopies and look what I found!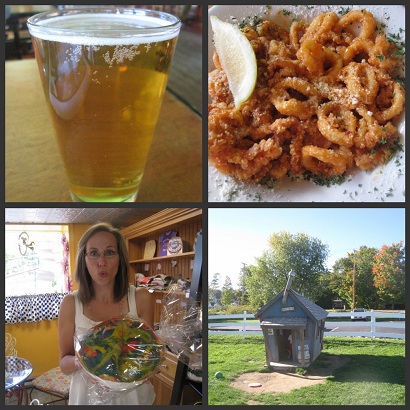 For sightseeing, we drove all along the freeport and south freeport coast and then went back to the hotel to rest for a while. Once freshened, we went to the huge LL Bean store and then for a late salad before bed.
We are now home safe and sound.  Have you ever been to Freeport, Maine?