Yesterday I enjoyed a breakfast with a friend at Kitchen Little in Mystic, CT. We had a nice time catching up and talking cameras.  We also both had a heart healthy omelet which is their low cholesterol egg mix with herbs, fresh baby spinach, tomatoes, peppers, onions, carrots and mushroom with dry multi-grain toast.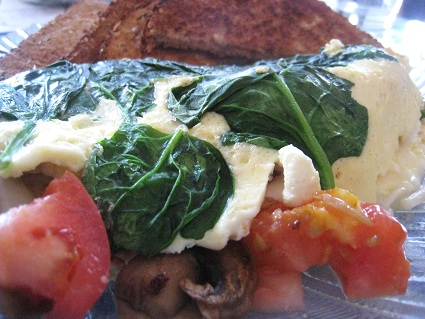 I had to add some Monterey Jack cheese or it just would not have been satisfying to me. We both only planned on eating half of the omelet and taking the rest but before we know it we were so into the camera chat that we ate the entire omelet and almost needed to unbutton our pants. 
We discussed Canon and Nikon and the Canon XTi versus Nikon 5000 and then whether those would even have the ISO and clarity I want for low light (think restaurants and dark at 4 in the winter).
What camera do you use and recommend? Why?