How is it that it is already time to start planning for Holiday Cards? Once Halloween passes, we start planning for Thanksgiving and the tradition in this house is to send our Christmas cards out the day after Thanksgiving.
Since this popped into my mind at 5:00 this morning, I started peeking at what options Shutterfly has available for Holiday Cards. I have ordered cards from them three of the past four years and love the fresh news looks each year.  One of my favorites are the one called 'Starlight Joy' (shown as main photo on post). I love the simplicity and the minimalist design will let the entire photo be front and center.
Another one I like is called 'Modern Stitched Wishes'.  Again, it is the simplicity that grabbed my attention and the gentle stitching around the Happy Holidays wording adds an old fashioned touch.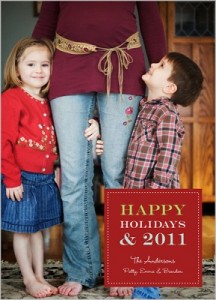 Oh wait, since I love all things birds, I am also considering this one as it is modern but still sweet. I guess I need to start inserting photos and making a decision.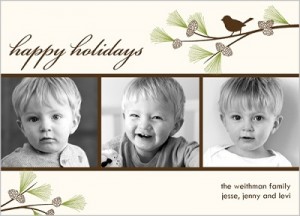 One of the features I appreciate most when selecting cards, is the ability to select the number of pictures. You do not want to find a card you love and find it only holds two photos when you have you have your heart set on using three photos. Plus, you can choose which type of Holiday photo cards you want: folded greeting cards, flat stationary cards or (and less expensive) flat photo cards.
Also, if you are the family on the block that hosts the annual party, you can also find some really nice (and colorful) Christmas Invitations. Personally, I am liking all the ones showing a martini glass. Cheers!
**Also, for all you bloggers out there: if you do your own post about Shutterfly's Holiday Cards, you can score yourself 50 free cards! ** 
What are your favorites?
This post is part of a series sponsored by Shutterfly. I was selected for this sponsorship by the Clever Girls Collective, which endorses Blog With Integrity, as I do.