Happy Monday! In part 1 of my trip to New York City, I gave a summary of events and promised more on Eataly and the Aria Restaurant but first up I wanted share more about the hotel.  We stayed at the Wingate Hotel on 35th street and were quite impressed by the hotel. 
Since we arrived late Thursday night, we met with the manager on Friday morning and asked him some questions about the hotel:
Why should one choose The Wingate in NYC over other hotels? First of all the size of the rooms as our rooms are almost double the size of the standard NYC hotel room. Secondly, the amenities such as Wi-FI and breakfast are included at no additional cost. Third, the location: We are located in Midtown Manhattan in the Fashion District. Many popular attractions are close including Macy's (.5 blocks away), Times Square (7 blocks), The empire state building (4 blocks), Madison Square Garden, Penn Station (2 blocks away) and there are 13 Subway trains within 1.5 blocks.
How Many People are allowed in each room? For the rooms with a King bed, two people but for the rooms with two double beds, four people can occupy the room.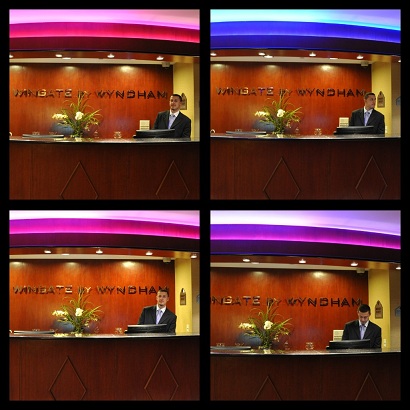 You serve lunch and dinner as well? It is a full service restaurant with European-Caribbean style flair and a large menu.  We are also happy to fill special orders.
What does a plate cost at the restaurant? Breakfast is free. Lunch will run you about $12 and dinner will cost about $18-20 a plate.
Do all of the rooms have a microwave, refrigerator and coffee? Yes
How many Wingate Hotels are there across the United States? There are 140 currently and we are expanding more in 2011.
I had a great experience at the hotel so go stay at the Wingate on 35th St. for a truly Manhattan Experience.  To find out about the changing front desks lights above and for a full and honest review, head over to TravelingMom.com where I write a weekly column as Rhode Island Traveling Mom. (note, no link yet as TMOM article not published yet)