If you're new here, you may want to subscribe to my tasty updates.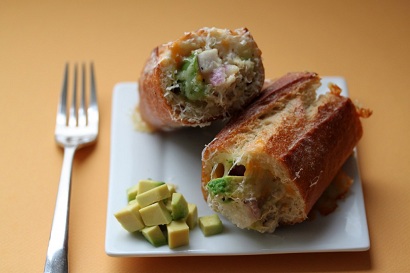 What a fun week: National Sandwich Day was not only celebrated here but also in two posts on The Family Kitchen (Grilled Chicken Cuban & Burger Round-Up)
Also on The Family Kitchen (a Babble blog) this week:
Pumpkin seed, Cranberry and Feta salad: so simple but tasty!
Carmelized Onion, Ham & Gruyere Cheese Pizza – add some pineapple and it becomes Hawaiian
Coffee Shops offering Fair Trade Coffee – doing good while on the go
Low-Carb Living,Family Style with Courtney-Thorne Smith – what are your thoughts?
Plus, there is still time to WIN Emeril's Farm to Fork Orange Cookbook!
*Photo courtesy of Sanura of My Life Runs on Food