Back in June, the lovely Casey from Tastestopping told me about an exciting venture called Kitchen Play and the progressive party. Kitchen Play hosts a unique virtual Progressive Party where six food bloggers are each assigned one of the following courses: cocktail, amuse bouche, salad, appetizer/soup, entrée and dessert to create using a specified product.
This month all six bloggers, including myself were challenged to incorporate MySpiceSage.com spices and products into six different courses. My assigned course was Salad.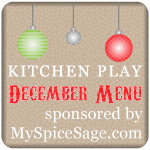 While shopping at MySpiceSage.com, I was blown away by the selection and affordable prices: berries, organics, equipment and more! There are over 400 Spices, Herbs, Seasonings & Cooking Ingredients available. Their spices arrive to you at their peak freshness and quality. Plus, with every order, you can always select a free sample of the spice of your choice during checkout. The site also offers great recipes for inspiration.
One of my favorite features of the site is the categories you can search by: Name A-Z, Cuisine, Taste & Aroma, Popularity, Food Seasoning, Accessories and Gifts. In addition, the site is always promoting a particular spice, herb or seasoning and item is automatically included with every order…for Free. I mean, Hello! I have also experienced great customer service and will be purchasing from MySpiceSage.com in the future.
As I mentioned above, I could not believe the selection and decided that I was going to try something I had never tried but is gaining exposure due to being rich in powerful antioxidants and other nutrients: the Goji Berry. I found the berries to be a good balance between sweet and bitter and the texture is similar to a dried cranberry.
Now, on to the lovely creation I made for this Holiday Party: Quinoa, Apple & Goji Berry Salad with Honey-Curry Vinaigrette
Quinoa, Apple & Goji Berry Salad with Honey-Curry Vinaigrette
Ingredients (Serves 4)
1 cup cooked quinoa
1/4 cup raw pepitas (pumpkin seeds)
1/4 cup goji berries (or dried cranberries)
1 small apple (Macintosh or golden delicious), cut into 1/8-inch-thick wedges
1/4 cup lettuce leaves of choice
Directions
Mix quinoa, pepitas, berries and apple; toss well. Serve over lettuce.
Honey-Curry Vinaigrette (Yield 1 cup)
1/2 cup canola oil
4 Tablespoons red wine vinegar
1 Tablespoon honey
1/4 teaspoon curry powder
1/4 teaspoon onion powder
1/8 teaspoon lemon peel powder
1/8 teaspoon garlic powder
1/8 teaspoon salt, or to taste
1/8 teaspoon ground black pepper, or to taste
Directions:
Combine all ingredients in mixing bowl or mini-processor and whisk/pulse together until well blended. Store in refrigerator. This vinaigrette also makes a lovely marinade for seafood.
Wait! This is too exciting for you to miss: My Spice Sage is sponsoring a fun contest at Kitchen Play as part of this Progressive Party! You can win one of six $100 prizes so head over to the Contest Page to see what it's all about!
To learn about participating in the progressive party, visit Kitchen Play and to explore the amazing selection of spices and learn about The MySpiceSage Mission, please visit My Spice Sage.