Friday night. Are you still full of energy on a Friday Night? I know most of us have tired bones and I am pretty sure that there is a spike in pizza orders each Friday. Too much pizza is followed by watching a movie the kids have already seen 28,000 times but insist they need to watch it again.
Well, this past Friday night we needed to get out after another snow day inside so we decided to grab dinner out and then hit the craft store so we can get started on the Valentine's Day cards.  When we go out with the kiddos, I want it to be a casual family friendly place where 'kids food' does not mean nuggets and fries so Panera is often a destination of choice.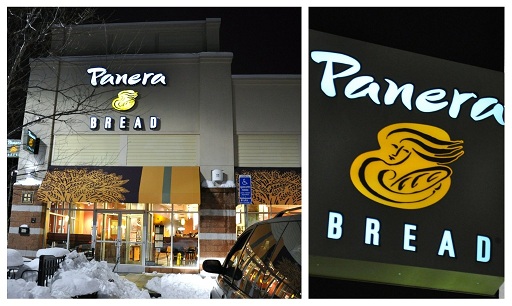 On the way to Panera, we discussed everyone's preferences: My husband and I wanted to try the new Thai Chicken Salad, my daughter wanted a sandwich and yogurt stick (as in real yogurt), my son wanted soup and we all debated whether we would have room in our bellies for a smoothie (of course we would!).
I personally love the You Pick 2 menu options as you can have some variety and try different items on the menu without having to eat a huge serving of it. I also love that we can choose better choices for our kids such as an apple or organic yogurt stick. After all, I understand that sometimes even the best planner is too overwhelmed to throw dinner together or may not even want to make dinner so I greatly appreciate having a family friendly but calm restaurant where you can make some healthier choices for your family.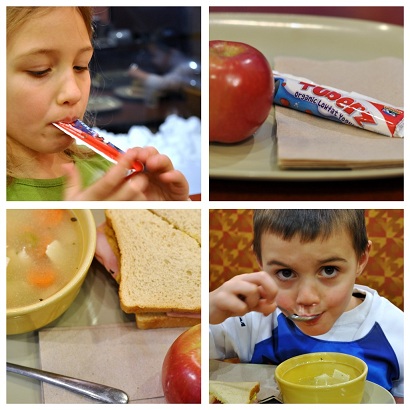 My husband and I did share the new Thai Chopped Chicken Salad (check it out!) and we loved it. It had authentic Thai Flavors and I love, love, loved the fact that there were edamame in the salad. My husband was thrilled with the Thai Chili Vinaigrette: he could taste the lemongrass, red chili, sesame oil, lime and hello, the peanut sauce.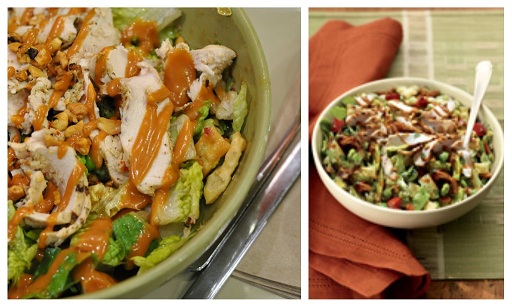 My daughter always loves the fresh bread the sandwich is made with and my son is obsessed with soup. After eating the chicken noodle soup, my son insisted I start making some chicken noodle soup so I added that to the 'must make for kiddos before keep asking' list.
Our 'dessert' was the Wild Berry Smoothie as we knew it would be sweet with the blend of strawberries, blackberries, blueberries and black raspberries. Plus, I mean, it is made with Stonyfield Farm organic, low-fat vanilla yogurt so I was all for it. Ends up we should have bought two because the grown-ups only had a few sips and then the kids took turns getting cold headaches from drinking the smoothie too quickly – it was that good!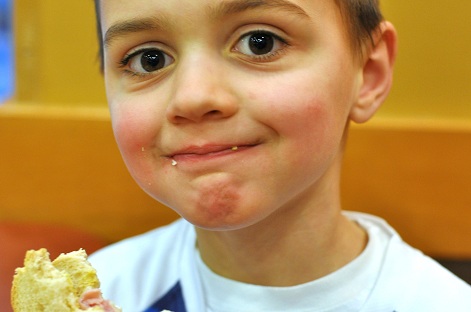 By the way, I could just kick myself as I left without signing up for the newMy Panera program (must.not.forget.when.I.go.back). See, Panera now has their equivalent of a customer loyalty card. Each time you go, have them scan your card and you will earn bonuses and gifts picked specially for you. It may be a complimentary item from the bakery-cafe to exclusive tastings and demonstrations. Oh and the more you visit, the more surprises you can get (just when you least expect them)! Crossing my fingers for a mega iced coffee one trip or uh, some fresh bread and gosh, if they offer me something cute from the bakery, I may eat it because I do not want to come off as rude. You understand right?
Keep up to date on all the amazing and yummy goings-on with Panera on their Facebook Page and if you love social media, feel free to chit-chat with Panera on Twitter.
FYI aka Disclosure: I was provided with a gift card and some cash for my time writing.  See, I am a bit crazy about Panera Bread so when offered to be a part of this campaign, I was all like 'Oh Yeah'. Keep in mind, I am writing this post and all of these words are mine. Over and Out.