Well golly-gee, what a week. First of all, there has been 1, yes ONE full day of school this week which has left this house extra messy and buzzing with activity.
Last night we had another soup fest as I am bringing 5 quarts of Cabbage & Split Pea soup to a soup swap. Anyone willing to clean my kitchen?
Thursday brought the honor of Glamour Magazine online confessing their love for the PB, Honey & Dried Cranberry Crispy Treats. This has lead me into my laboratory to come up with variations on the theme – stay tuned!!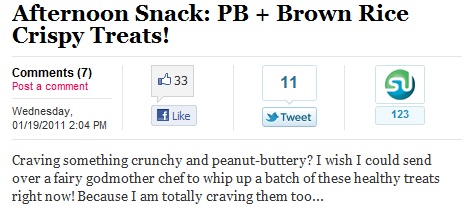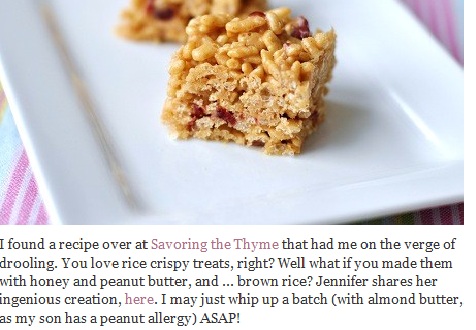 Tomorrow I am hauling a load of Sweet Potato-Zucchini Muffins and Popcorn Trail Mix to a local Children's clothing boutique, Yes, food at a clothing store. See, they are having a grand re-opening and in addition to story-telling by a local author, they are having me come and share some better snacking choices.
Wish me luck, I may get a muffin or some dried cranberries tossed at me.
Did you know I am also a daily contributor to The Family Kitchen? This week I shared:
Spare yourself the Hydrogenated Oils: Homemade Girl Scout Cookies
Sriracha Hot Wings
Baked Honey-Mustard Tenders
Mini Cheeseburgers by Everyday Food & Martha Stewart
Hungry-Girl Update
Spicy Buffalo Chickpea Salad by Perry's Plate
Photo courtesy of Perry's Plate