Happy New Year! We are all familiar with this scenario: New Year's Day comes and we have a list of resolutions that we are determined to stick with and accomplish. The resolutions at the top of the list are usually along the lines of 'eat healthier,' 'lose weight,' etc. and one habit that can help you accomplish those goals involves planning your meals and snacks. In addition to being healthier, it is often cheaper so you can use the money you save for a gym membership or fitness clothing.
Having great snack options on-hand and ready-to-go is essential to not giving into cravings and making bad food choices. You know what I mean – when you are very hungry or craving something salty or sweet and notice the local drive-through and justify stopping there because, after all, you need to eat right? Uh-oh.  
Having some healthy snacks on-hand will help keep you on track until you get home for a well-balanced meal. Here are some of my favorites:
*Whole grain crackers and cheese or mini-sized whole wheat bagel with low-fat cream cheese, which is a great protein and fiber option
*Hard-boiled eggs
*Sliced veggies or a small salad and reduced-fat salad dressing
*Baked or reduced-fat potato chips or baked tortilla chips and hummus
*Granola, homemade granola bar or trail mix (One of our favorites is Pumpkin Seed Trail Mix)
*Popcorn (preferably air-popped) with fun combinations such as salt and pepper or even garlic powder and a light dusting of Parmesan
*Fruits & vegetables: baby carrots, celery, sugar snap peas. The possibilities are endless and you can pack your favorite dips. Remember, moderation is key. Keep in mind that sometimes fruit can hit the spot when you are having a sugar craving as there are some natural sweet choices, such as pineapple or kiwi.
When I am packing lunches, snacks, putting away leftovers and freezing meals, I often use both Ziploc Brand Containers and Bags. I know they are reliable, affordable and available in so many sizes to fit all my packaging needs. I especially love using the Ziploc Brand Snack Bags as they are perfect for portion control.
Be sure to spend some time on the Ziploc Facebook Fan Page as they have great tips, coupons and recipes. In fact, share your favorite healthy recipes and snack ideas on the Facebook page!
So, here's to better snacking and staying healthy! Happy 2011 and keep envisioning your goals and successes.  And remember to Savor the Thyme!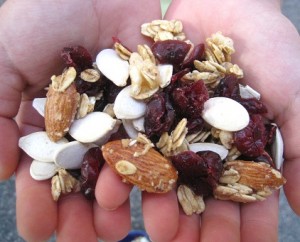 * This post is sponsored by Ziploc®, but my thoughts, statements, recipes and opinions are my own.