Fun, Refreshing, Healthy with a touch of bacon on top. Yup, that is the food blog 'How Sweet It Is' that Jesscia Merchant created. Jessica is a former personal trainer who writes about food, fitness and living a healthy, balanced life at How Sweet It is. She believes in loving what you do and doing what you love, and enjoys bacon and the treadmill equally.
I enjoy Jessica's blog as she seems so sweet and based on her storytelling, lots of fun. In fact, I have imagined her as the super fun but grown-up babysitter. The kids would love her to babysit, I am sure of it. I bet if she was babysitting they would eat BLT's and giggle the whole time. I also wish Jessica was my neighbor as I know we would go for walks while sipping coffee or tea and then take turns making messes in each others kitchens while we created all kinds of tasty nibbles.
Okay, so anyhow, I was doing the daily check-in at her blog and saw that she made some 5 Ingredient Peanut Butter Granola Bars. I wrote her and begged her to let me feature them here and her Chicken Macaroni & Cheese on Babble and if she did, I would send her bacon. Luckily, she said go for it but keep the bacon.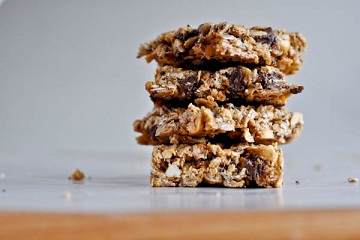 5 Ingredient Peanut Butter Granola Bars (Yield 12-16 granola squares)
4 cups rolled oats
2 tablespoons chia seeds (these are optional, I just love the texture they give)
1/2 cup unsalted peanuts, chopped
3/4 cup natural peanut butter, melted
1/2 cup brown rice syrup (honey works too!)
add ins!
chocolate chips
wheat germ
flaxseed
dried fruit (I made some with cherries!)
other nuts
seeds
coconut
Preheat over to 350.
In a large bowl, combine oats, chia seeds and peanuts. Add brown rice syrup (or honey) and mix to combine. Add melted peanut butter and mix until moistened. This works as a perfect, simple granola bar, but you can also throw in any add-ins at this time. Fold them into the dough. You may need to get in there with your hands and work the granola dough! If dough is still too dry (this can depend on your ingredients) add more peanut butter or syrup (or honey) 1 tablespoon at a time until moistened.
Press dough in a greased (non-stick spray) 9 x 13 baking dish. Bake for 25 minutes.
These would also work as a great no-bake granola bar, but I liked how they came together and the chocolate chips melted as they got warm. If you want to make no-bakes, simply press the dough into the pan and refrigerate for 60 minutes.