With the current cabbage obsession in this house, I decided it was finally time for me to forget the trauma from childhood and introduce brussel sprouts into the families diet. To be honest, I figured I would be doing with an 'act' about how darn tootin great these lil buggers are but golly gee, I was surprised to find I am now a fan….well, of sauteed brussel sprouts.
I sent out a tweet asking 'Have any favorite brussel sprouts recipes?' and I got a big response. It seems there are three kinds of brussel sprout fans: The 'Sautee" team, the 'Roasted Team' and the 'Why would you want to eat those?' team. Therefore, I decided that I would dive in with sauteed and roasted attempts. After two experiments, I have found that I am not a roasted brussel sprouts fans however, I am definitely a saute-these-babies-two-days-in-a-row-fan!
Plus, the kids are now sauteed brussel sprouts fans although they did ask 'Mommy, why are we eating these two days in a row?'. Note to self: easy on the same vegetable overdose.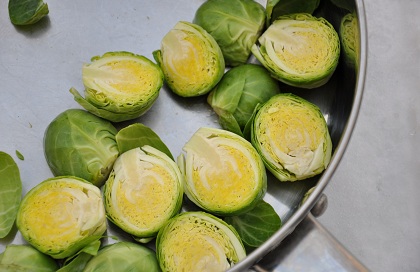 Sauteed Brussel Sprouts with Onion, Garlic and Red Pepper (Yield: 4)
Ingredients:
10 oz. brussel sprouts, halved
1/2 sweet onion, chopped into long slivers
1/2 red pepper, cut into 1 inch slivers
2 cloves garlic, chopped
2 Tablespoon olive oil
1/8 teaspoon salt
dash of ground pepper
2 Tablespoon balsamic vinegar
Directions:
1. Heat oil in a large pan over medium heat. Add onions, reduce heat to medium-low and cook for 5 minutes, stirring often.
2. Add brussel sprouts, garlic and red peppers and toss to cover with oil. Season with salt and pepper. Cook brussel spouts while continuing to toss until browned, about 8 minutes. Add the balsamic vinegar and cook 2 more minutes.
3. Serve immediately
Are you a Sauteed or Roasted fan? Or both?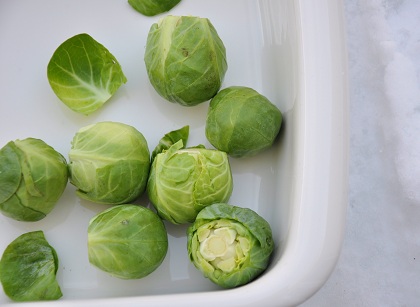 Brussel Sprouts pre-roasting: someday we may be together. Be patient.