'Sorry, Something is Technically Wrong'. hum…..have you seen this statement often? It is most often seen on Twitter however, it seems like the perfect epilogue to the day my daughter and I experienced this past Sunday.
Sunday was our last day in Florida at a Disney Resort and my poor little Monkey woke up at 2:30 am ill. We comforted him and got him back to sleep about 5:30. Needless to say, I could not go back to sleep so I showered and dressed for the day. At 6:30 my daughter asked if we could go to Thunder Mountain and Splash Mountain once more. I jostled my sleepy husband and asked him what he thought and he said to take her and he would stay with Ben.
I mean why let an already purchased ticket go to waste right? I loaded my daughter and guilt-ridden self onto the bus and rode to the Magic Kingdom. We were there early so ended up being first in one of the lines to get into the park at 8am.
That is where the fun started: I inserted the tickets into the turnstile and it displayed 'Access Denied'. Then all the turnstiles turned off. Yes, off. uh-oh. The Disney folks whipped into action and started letting us in with some paper passes (apparently those still exist) and off everyone else went on their way to grab Fast Passes. Since we were not in a rush, we strolled leisurely and had fun skipping along the walkways and giggling.
Our plan was to grab fast passes for Thunder Mountain (in case the boys felt better later) and then went off to ride the roller coaster. We inserted the paper tickets into the kiosk and were told 'access denied'. Along strolled an employee who said the machines were not working and handed us two fast passes. Sweet!
After riding Thunder mountain twice, we moved on to see if we could now score fast passes for Splash Mountain since the other machine had no record of us getting passes (can only get them for 1 ride every few hours). I inserted the tickets and told 'Access Denied'.  Again, an employee handed us two fast passes. Score!
We  jumped onto Splash Mountain eagerly (and a bit nervously) and when the ride ended,  we decided to go again. Now, here is the fun part: the ride broke down while we were on it. Yup, we all came to a stop and then sat there 20 minutes while the capable employees helped get people off the ride (numerous boats go at the same time). We giggled in dis-belief and decided that we were having a 'bad technology day'.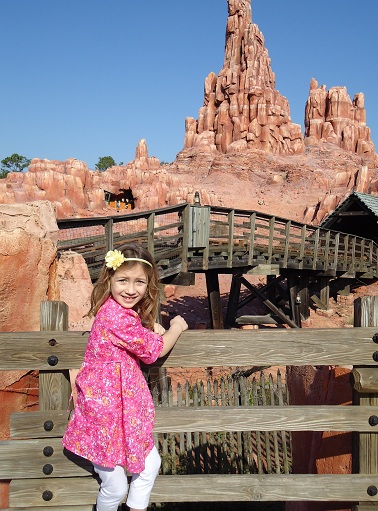 Upon departing Splash Mountain, my daughter asked if we could buy to turkey leg to take back to the hotel so she and daddy could share it. I said yes but upon purchasing it, the credit card machine went down. We could not believe it!
Naturally, I began wondering if we should get on a plane.
Oh, wait, you thought you were getting a recipe: By the time we got home Sunday night I was craving some carbs and protein but was too tired to spend more than 10 minutes. I had seen a recipe in Power Foods and I could not shake the image. I did not even want to look it up in the book, simply be inspired and wing it.
Seriously, I remembered the basics so I went to work and then ate it with minimal breaks for breathing. In fact, I am not even giving exact measurements as I did not write anything down – just wing it and enjoy!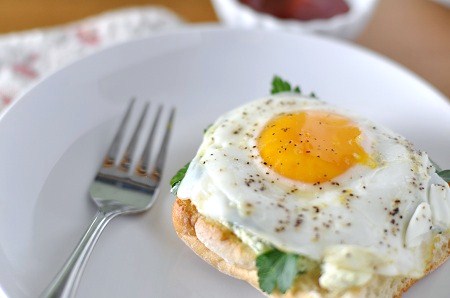 For those who want ketchup on the side, I included it in the photo above.
1 slice Demi-Ciabatta or favorite bread
1 organic egg
1-2 tablespoons of oil
2-3 tablespoons reduced fat ricotta
Handful of baby spinach, chopped
Handful of parsley, chopped
salt and pepper
Turn the broiler to high. Toss the oil in a pan and turn the burner to medium-high. While those are warming up, chopped the spinach and parsley and toss them in a bowl with the ricotta and mix.
Toss the bread under the broiler and crack the egg into the pan ever so gently. Watch the bread and egg and continue to wipe drool off your chin.
Smear (yes, smear honey. It's okay, go head) the ricotta mixture onto the bread and top with the egg. Dust with some salt and pepper. Don't even sit to eat this and forgo the utensils.
Grab, Chomp and Say 'Yum'