Happy Monday! I will be taking a week off and have left this blog in some amazing hands! I mean a-maz-ing! In fact, I am so stinkin honored by the guest posters that all I can say is 'stinkin honored'! Tune each day to see the awesomeness that is hanging here each day.
First up is my bestie. Yes, my bloggy bestie named Brooke Mclay. I have gushed over her in the past and mean every little morsel: she is kind, compassionate, unselfish, a true friend and ubertalented. Without further ado: Brooke and Graham Cracker Cookie Sandwiches
Homemade cookies are better than store-bought cookies.  Homemade cakes are definitely better than store-bought cakes.  But, gosh darn it, if homemade crackers aren't fussy and finicky.  They never seem to work out as crackley or tasty or crave-worthy at home as the over-processed ones they sell in the grocery aisles.  That what I've thought, at least, until I baked up a batch of homemade graham crackers last week.  After searching through several recipes, I settled on Smitten Kitchen's version, which was adapted from Nancy Silverton's version aren't difficult to make at all.  They cooked up light and crispy with a perfectly wondrous flavor.
We cut our cookies into teensy flower-shaped tidbits, then smeared pure, cold smidgens of cream cheese between them. The combination of the sweet graham flavor and subtle, creamy Neufchatel was ridiculously simple and entirely perfect. I happen to think you'll enjoy it tremendously.  We sure did!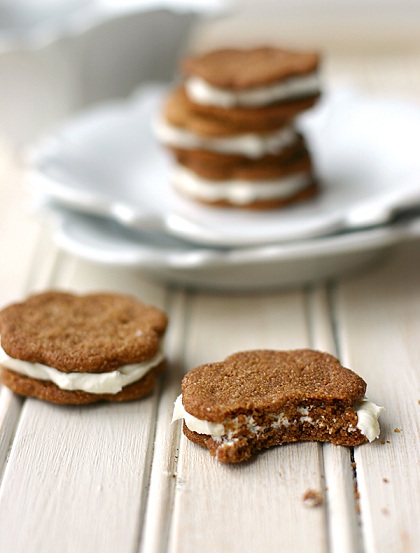 Graham Cracker Cookie Sandwiches
Ingredients:
1 batch Smitten Kitchen graham crackers
1 (8 oz.) light cream cheese
Instructions:
Follow the recipe to a T.  Roll the crackers thin and cut them with a small, round cookie cutter.  Once the crackers have cooled completely, spread cream cheese between two crackers to create a cookie sandwich.  Serve immediately or store in the fridge until ready to eat (but keep in mind that the cream cheese will slightly soften the crackers over time, so don't store them too long, lest you get a bungle of smushy treats).