One of my favorite ways to make a dish taste indulgent without lots of calories is to add roasted garlic. When roasted, garlic becomes caramelized, sweet and buttery, adding a burst of flavor to any dish.
Recently, I paired it with the protein-packed grain, quinoa, which has become a favorite in our house. Along with caramelized red peppers and sautéed mushrooms, this mix has become a staple during our busy weeks. It tastes great hot or cold, it works perfectly as a side dish, and can even become a main entrée with the addition of more veggies or your favorite lean protein if desired.
Vegetables aren't my favorite, so I find pairing them with something that I really enjoy – such as the creamy roasted garlic or the quinoa – not only allows me to enjoy them, but also helps me get in multiple servings a day. I've also sautéed a bit of spinach before and added it to the dish, which gives it a nice pop of color and a slew of vitamins and minerals.
I hope you enjoy this quinoa as much as we do!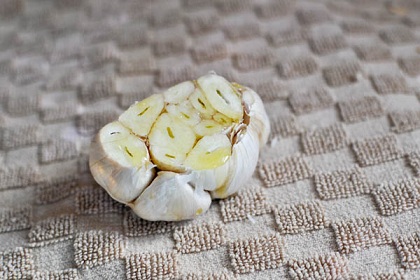 Roasted Garlic, Red Pepper and Mushroom Quinoa (makes about 2 cups worth)
1 head garlic
1 cup of quinoa
2 tablespoons olive oil
1/2 cup chopped red pepper
1/2 cup chopped mushrooms
salt & pepper to taste
Preheat oven to 400 degrees. Chop the top off the garlic and peel away the loose outside paper. Drizzle olive oil on cloves, wrap in foil, and roast for 20-30 minutes, or until golden. Let cool.
Cook quinoa according to directions on package. While quinoa is cooking, heat a skillet on medium heat and add olive oil. Add red pepper and mushrooms and saute until soft, about 6-8 minutes. When quinoa is done, fluff with a fork and add peppers and mushrooms. Squeeze the entire head of garlic cloves into the quinoa, mashing some with a fork and leaving others whole. Season with salt and pepper and mix well.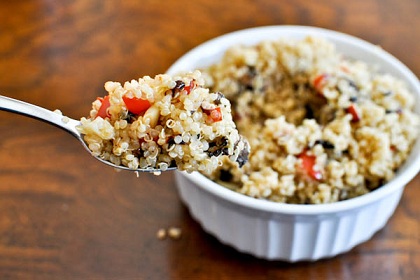 Jessica's highly addictive blog 'How Sweet It Is' is full of so much prettiness and yumminess, you would be remiss to not run over there right now!