Remember the brilliant creation that was born after my husband randomly declared 'I want cabbage soup?'. Well, another awesome recipe was created thanks to his seemingly random statement this past Sunday morning.
tempting photo 1…..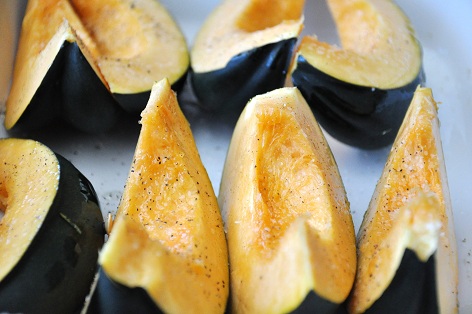 I had just packaged up and shipped my daughter's little friend off (all groggy from a sleepover) and was working on my grocery list when I heard: 'You don't make acorn squash'. Hunh, I thought. I had no idea this particular vegetable has been so neglected so I set off to bake one. Naturally, he said ' I like it with maple syrup'.
Well, I could not take that route for two reasons: 1. I have memories of hating the syrupy brown sugared squash my grandmother used to make on special occasions and 2. I wanted to break the tradition and dare I say, go savory!
Follow this plan step by step and be rewarded handsomely.
tempting photo 2….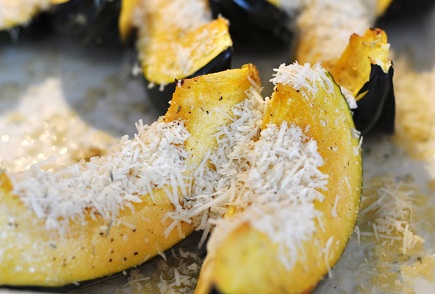 Panko, Rosemary & Asiago Roasted Acorn Squash
1 acorn squash, cut into 8 wedges
2 Tablespoons of olive oil
a few dashes of salt
a few dashes of black pepper
2 teaspoons unsalted butter, melted
1/4 cup asiago cheese, shredded
1/4 cup whole wheat Panko bread crumbs
1/4 teaspoon chili powder
1/4 teaspoon garlic powder
1/4 teaspoon minced rosemary
1. Preheat the oven to 400 degree F. Grab yourself a sharp knife and baking dish.
2. Prepare the Acorn Squash: Cut it in half from top to bottom, scoop out the guts seeds, flip them onto their bellies (you know, the flat side and cut them into 4 wedges.
3. Place wedges in a baking dish and drizzle with olive oil (use the never-used-in-the-winter basting brush and spread the oil evenly) and season lightly with salt & pepper. Slip these sturdy cuties into the oven and roast them for 20 minutes.
4. Meanwhile, melt the butter. In a separate bowl, combine the cheese, panko bread crumbs, chili powder, garlic powder and rosemary and mix well.
5. After the initial 20 minutes of roasting, baste the squash with the butter and then evenly distribute the cheese/bread crumbs mixture all over the squash. Bake for an additional 25-30 minutes.