Yippee, the Oscars are on tonight! I love watching all of the fashions on the red carpet before the show – do you? oh, I love getting all Joan Rivers like and being all 'Man, If I had that kind of money, I would never wear that!' and all 'That dress would have been so much better if it was longer/shorter/fit well'. And 'awww…she looks so beautiful'. You do it too right? I know you do. wink, wink.
I want to share some shoes I tried on for an Oscar themed party I was supposed to attend tonight: I was going for Black Swan-ish deal: sweet black lace dress with assertive shoes.
See, the operative word above is supposed. See, you may recall a little mention of stomach flu. well, I am the last one standing and I am crossing-my-fingers that I am spared. Do not comment on the reality of the situation please as I am choosing to focus on some fun amidst the piles of soiled linens.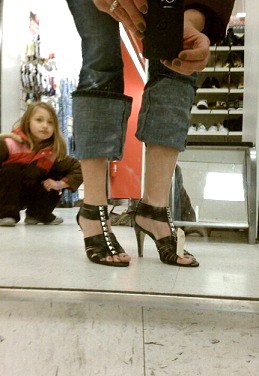 Stay healthy and entertain me with your choice for best and worst dressed from tonight's Oscar show!
Oh and you need to hurry and enter to win for a Year's supply of Ziploc products – Good Luck!!!