Every Saturday morning we drool like Pavlovean Dogs. No, I am not kidding. Why you say? Because each Saturday after we take our garbage to the transfer station and visit the animal shelter (not the reasons we drool), and then we go to a local bakery. Fresh bread: the smell, the taste, the entire experience is something that has become special to us. Plus, my mom used to bake bread and my gosh, I feel all nostalgic whenever I smell the aroma.
That is one reason we love going to Panera Bread: fresh bread and many varieties to choose from. In fact, when I saw that Panera has a Facebook tab titled ' Ode to Bread', I asked my husband to place an ode on the page (yes, he did and we laughed while trying to create a poem).
You need to understand that to this family, fresh bread is comfort food. Okay, okay, so is macaroni & cheese and meatloaf but I digress.  During the ode to bread silliness, I saw that they have videos, yes videos (Ode to Bread, Fresh Ingredients & Asiago Strata – Plus, cool music) that also show the importance of bread in other people's families.
Fuzzy shot from my Droid but I had to capture the beauty.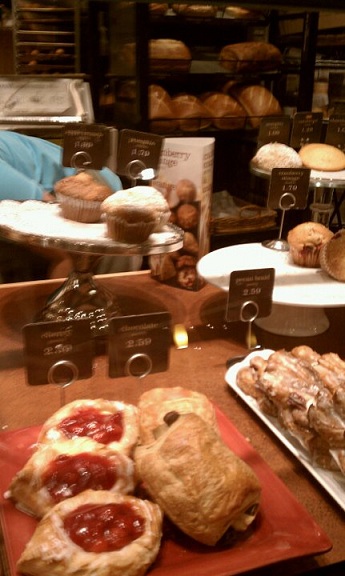 Oh, why else do we love Panera Bread: Quality, Variety (fist bump to the coffee bar for Mom and bagels too!), Efficient but not fast-foody and you can make it a quick stop or hang back and read the paper. 
Psstt….come closer. We were there a few weeks ago and I noticed there was a Wi-Fi sign and so snuck back there all on my own last week and did a little work. Boo-Yah.
Why do you love Panera?
FYI aka Disclosure: I was provided with a gift card and some cash for my time writing.  See, I am a bit crazy about Panera Bread so when offered to be a part of this campaign, I was all like 'Oh Yeah'. Keep in mind, I am writing this post and all of these words are mine. Over and Out.
Photo courtesy of Old Town Plaza