Forgive me if I ruined your appetite with the title above. Let me tell you a bit about how the title came to be:  The morning around here was a tough one for me and although I won't share the reasons, I will say that I was in desperate need of a hug.
My little monkey was practicing his letters/numbers/counting and my role was to sit and watch. I was sitting on the floor on the verge of tears when he turned, put his marker down and came to hug me. He sat in my lap, gave a long strong hug and when we separated made the following philosophical statement: 'Belly Button Poop'.
Perfect Timing.
But the morning was also filled with some excitement as the photo of my 'It's Greek To Me Twice-Baked Potato' is in a contest and public voting is now open.  Now, I am not a huge fan of asking for votes but since it is open for public voting, I will ask that if you have 30 seconds and are all into pretty food photos, than come on over and click the vote button.
Since I am not allowed publish the exact image, I decided to share one that did not make the cut.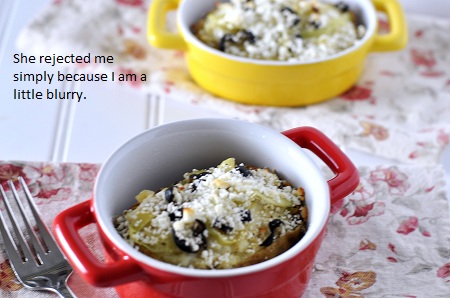 As a bonus, you can vote once a day through March 28th. Plus, I just might send you some olives or laundry lint – your choice.
What are you favorite twice-baked potato add-ins?