I am not making it up, the title above is exactly what I made. I should also add that apparently these are hand pies….but not. Well, you will see. If you recall, I challenged myself to be more mindful of using leftovers so, I grabbed myself some Trader Joe's buttermilk biscuits (I make a monthly trip about 40 minutes away) and went to work.
Leftover organic chicken breasts? check. Leftover ham? check. Leftover cheese? check. Now what? oh, turn on the oven.
The kids loved that they did not need forks and that they could walk around with their dinner. Because uh, that is what they told me they did because I was off doing a commercial shoot (oh, what did I say? I will fill you in soon)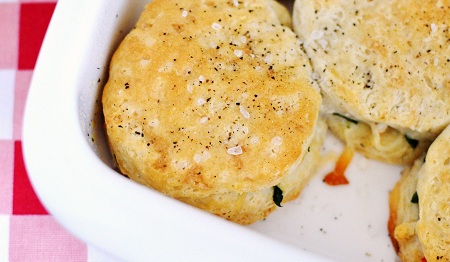 Ingredients (I made 8 biscuits and did not measure ingredients – be generous with cheese so the 'sandwiches' are not dry)
1 'can' Buttermilk Biscuits (preferably non-hydrogenated oil free or make your own)
~1/2 chicken breast or ~1/2 cup, chopped
~ 2 slices of ham or 1/2 cup ham steak, chopped
plenty of Swiss, cheddar or mozzarella cheese (sliced or chopped)
sea salt & ground black pepper
Directions
1. Preheat oven according to manufacturer's directions. Remove the biscuits carefully from the package, separate and cut in half horizontally (so that you are creating a top and bottom biscuit).
2. Place the chicken, ham and cheese on half of the biscuits, top with the other half of the biscuit, press together lightly and then season with salt & pepper.
3. Bake according to manufacturer's instructions although you may need to bake a few minutes longer but avoid drying out the biscuits.
I feel like a cowgirl when I make there. Be sure to stuff them or they will look all flat like mine do in this photo. Yee-Haw!