Oh my, you must forgive me for the title of this post. See the other day while my sweet little nuggets were at school, I was browsing through my morning blog visiting ritual and I ran across a droolicious post on nutella pop tarts. During this tasty excursion, the television was on in the background and was playing one of the many zany Charlie Sheen rants interviews.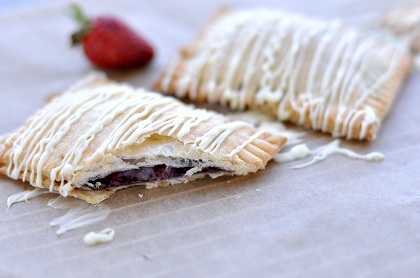 In my head I had swirling images of nutella (hazelnuts) pop tarts and charlie sheen (crrrrr-a-zy talk) and then they combined into one thought: Sheen-nuttiness. And so I ran into the kitchen and began dreaming up all kinds of poptarty plans: maybe with strawberries and then with…..oh wait…..I can't give it away now my salivating peeps. Maybe this is just the beginning of poptart-a-poolza!
Or shall we call it nutty-pa-looza? so-not-a-rock-star-pa-looza?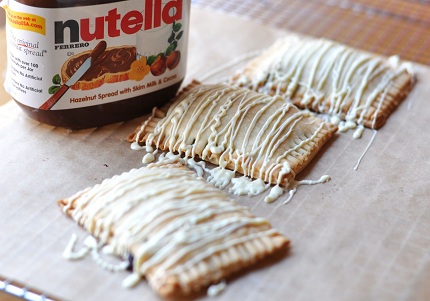 Homemade Nutella Strawberry White Chocolate Pop Tarts (yield 4-5 pop tarts)
1 package of refrigerated pie crust (preferably the non-hydrogenated oils and sludge kind or make your own)
6-7 teaspoons of Nutella
a few organic strawberries, thinly sliced
Topping:
white chocolate, melted
Directions
1. Preheat the oven to 400ºF.
2. Bring the pie crust to room temperature and then roll out atop a lightly floured surface. I try to roll mine into a more rectangle-ish shape, then measure and score it into 3×4 rectangles. I then used my super sharp pizza cutter to cut out the rectangles.
3. Place the rectangles onto a cookie/baking sheet covered with parchment paper. Spoon 1 teaspoon of nutella onto 4 (half the yield) of the rectangles, leaving about 1/4 inch of space at each edge. Place a few slices of strawberry on top of the nutella.
4. Place the 4 remaining rectangular pieces of pie crust on top of the nutella & strawberry covered pieces. Using a fork, seal the edges together gently, and bake for 13-15 minutes
5. Place 3 'pieces/chunks' of a white chocolate bar into a microwave safe bowl and warm for 30 seconds on 50% power. Mix and repeat until the chocolate is melted. Transfer it to a small plastic baggy, cut a teeny tiny piece off the corner and then drizzle the chocolate over the pop tarts and serve. Listen for all the 'Mmmmm's'.
Is this not nutty enough? oh, you wait. I have all kinds of gooey nutty goodness on the way!