Based on the reaction to yesterday's too-much-information post, it appears that you all enjoy hearing embarrassing stories….as long as they are not at your expense, so I will share another one.
This goes back about…oh my, that many years? Gulp. Okay, let's skip the years and just move onto the story: Back in my junior year of college, I worked on an independent study and the research was accepted for a presentation at the prestigious Woods Hole Oceanographic Institute. Yes, THE Wood's Hole.
I worked very hard on presenting my part of the research and only had 10 minutes to explain it all before I was being handed over to the wolves audience for questioning. I was more nervous about the question part than the presentation. I knew my stuff however, I did not know what questions would be thrown at me.
I wondered: Would I know the answer? Would I freeze? Would sweat run down my cheeks as it did in Physiology last year?
So, you know something good happens next right? Yuppers. I shook those stinky annoying nerves off once the presentation started and it went swimmingly.  I took a deep breath and asked 'Does anyone have any questions?'
About fifty hands went up and I pointed to the Head of The Department 'Yes, Sir'. He asked his question and I opened my mouth to answer. No problem I thought as I knew the answer, I knew what to say. This was going to be easy-peesy but instead of delivering my answer, all that came out was: 'HIIIICCCCUUUUUPPPPPPPPPP!!!!!!!'
The echo vibrated throughout the acoustically designed auditorium. It went on for miles….and miles.
Then the laughter began. I looked to my colleagues and professor. My professor slapped his forehead and slid down into his seat. The laughing, gigling, trying to refrain themselves continued for the remainder of the five minute question session.
I. am. not. kidding.
Needless to say, it was a quiet ride home.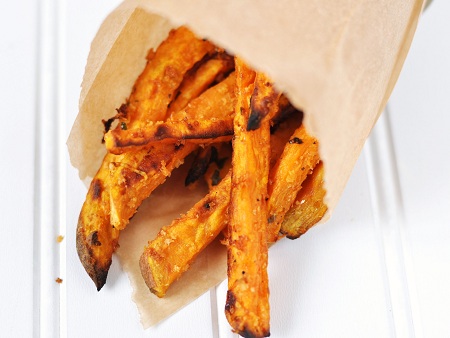 4 sweet potatoes
3 Tablespoons olive oil
1/2 cup regular or whole wheat panko bread crumbs
1/3 cup asiago cheese, freshly grated
2 cloves garlic, chopped
1 teaspoon dried rosemary, minced
Salt and Pepper
Directions
1. Preheat the oven to 450 degrees Fahrenheit
2. Peel, rinse and dry the potatoes.
3. Now, depending on the size of the sweet potato, you may wish to cut it in half lengthwise but if it is small/short, don't worry about it. Take a half of the sweet potato and cut it into large slices about 3/4 inch thick. Then cut them lengthwise at about 1/2 inch to 3/4 inch thick.
4. Toss them into a bowl, drizzle with the olive oil and mix well so that they are coated evenly. Then sprinkle on the bread crumbs, asiago cheese, garlic, rosemary, salt & pepper.
5. Distribute them evenly over a baking sheet covered with unbleached parchment paper and bake for 15 minutes. Then flip them around and bake another 10 minutes.
Any embarrassing memories you care to share?