Last Tuesday as soon as my daughter got into the car after school, the following conversation ensued:
I asked 'How was school today? Did anything special happen?'
She replied 'We discussed what we were giving up for Lent.
I said: 'Oh, what are you giving up for Lent?'
She replied: 'Chocolate AND the Wii!"
I said 'Oh my honey, the Wii is a big sacrifice for sure' (thinking, wow, mommy is sacrificing as well)
She replied 'What are you giving up for Lent?…….How bout Coffee?'
I  said 'What?! (a bit louder than I should have). Oh, honey, that takes weeks of preparation and mommy might get bad headaches and be mean'
She said 'Mommy it would be a big sacrifice'
I said 'Yes and mommy might get mean…..and eat you'
Now all of you calm down. The kiddos know I am quite silly and would never really eat them. I nibble them a bit when slathering them with kisses but that is it.
She replied 'Okay then, you will give up cheese'. I thought again. hum…..If I give up cheese I would probably gain a better looking hip area. Sold.
Now folks, this will be tough. I mean, cheese is like water to me. And so, since cheese is constantly on my mind, I thought I would spend the week sharing some recipes I made a few weeks ago that involve potatoes and cheese. Perfect with St. Patrick's Day this week.
I ate all the cheesiness right down to the last gooey bit. No regrets.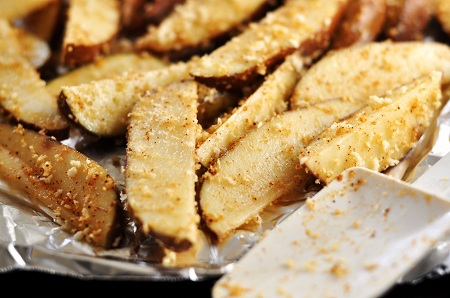 Forgive me but I did not write down amounts so just go in the kitchen and have fun!
About 2 pounds of organic russet potatoes
A few Tablespoons olive oil
~1 teaspoon dried rosemary, minced
A few shakes of garlic powder
Salt & black pepper
~2 handfuls of Panko bread crumbs
~1 handful asiago cheese, shredded
~2 scallions (green onions), chopped
A few slices of deli ham, baked then chopped
Directions:
1. Preheat oven to 400 degrees F.
2. Rinse and pat dry the potatoes. Cut the potatoes lengthwise in half. Then place cut side down and cut each half lengthwise into 4 more wedges. Ta-Dah!
3. In a bowl, mix the olive oil, rosemary and garlic powder together.
4. Pour the mixture over the potatoes, toss well, throw in the bread crumbs and toss well again.
5. Place a piece of parchment paper on a baking sheet and place the potatoes on the sheet, in a single layer.
6. Bake for 30-40 minutes, tossing after 20 minutes. If you will want to add ham, you can either toast up the ham in the oven the last few minutes of baking or crisp the ham in a pan first.
7. Sprinkle (douse) the wedges with cheese, ham and scallions.