Blame it on the evening coffee habit. I made a huge batch of the crispy treats mixture, placed some in the muffin tins for the nests and then still had a lovely bowl of it staring at me.
I also have a basket of empty Easter eggs from a neighborly egg hunt hanging out on the counter. Egg shells + crispy treat mixture = a marriage of form and fun.
What I do not have is a photo of is the idea of how to present/wrap them: colored cellophane with some ribbon. By the time you read this, I would have acquired some.
In you are wondering: Yes, I will bring back some savory dishes next week but for now, Happy Easter!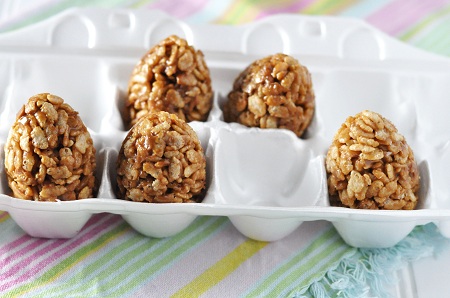 Brown Rice Nut Butter Nutella Crispy Treats Easter Eggs
1/2 cup nut butter*
1/2 cup honey
1/3 cup Nutella
5 cups crispy brown rice cereal
Cooking spray
Many plastic egg shells (at least 20)
Directions
1. Combine peanut butter, honey and nutella in a medium size bowl, mix and microwave for 30 seconds at 50% power. If the nut butter is not melted, repeat for another 20 seconds. Mix well.
2. Add brown rice cereal to the nut butter-honey mixutre, 1 to 2 cups at a time and stir to combine until mixture is sticky.
3. Spritz the plastic egg shells with a light dusting of cooking spray and then start filling each half with the mixture. Then stuff some more mixture in there and firmly close the plastic egg. Keep a towel nearby as you will be needing to wipe your slippery fingers. Repeat until all egg shells are filled.
4. Place in the freezer for 60 minutes. Open the plastic eggs carefully and gently remove the eggs.
5. Fill an egg cartons with them or wrap them in cellophane and tie with a ribbon.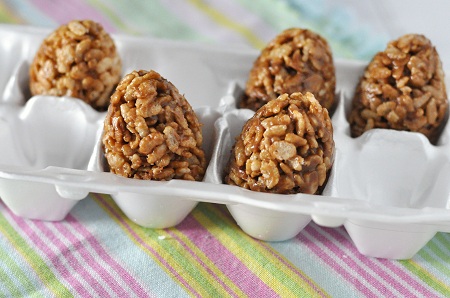 What are your Easter plans?