There are a few cookbooks in my large collection that are true gems. You know the ones you grab when you need an idea or recipe as you know they will have a spectacular recipe that will knock the socks off all who eat it? A few months ago, I added The Food Matters Cookbook: 500 Revolutionary Recipes for Better Living by Mark Bittman to that section of my cookbook shelf.
Like many of you, I first became familiar with Mr. Bittman via his book 'How To Cook Everything'. You also know him from his New York Times column or maybe even his appearances on the Today Show.
In 'The Food Matters Cookbook', Mr. Bittman presents the reality of the current food system and American diet but does not leave you feeling hopeless and sad.  Here is my summary in calculation form: Simple + Common Sense + Fun + Healthy + Cookies = A doable, conscious way of eating that will make you smile.
Speaking of the food, Mark Bittman will be in Rhode Island next week as part of a fundraiser for the RI Food Bank titled 'Food Matters: An Evening with Mark Bittman.' 
The event on May 5th begins with a Patron reception at 5:30 p.m., featuring an intimate setting to meet Mr. Bittman. The main event kicks-off at 6:00 p.m. as guests enjoy delicious Mark Bittman recipes prepared by Pinelli's Cafe at Night. Mr. Bittman will also give a presentation on food and its role in American culture and health. A book signing will follow so I am bringing my copy and hope to get a photo with him as well as stuff a doggy bag with treats (just kidding).
Tickets are still available so act quickly!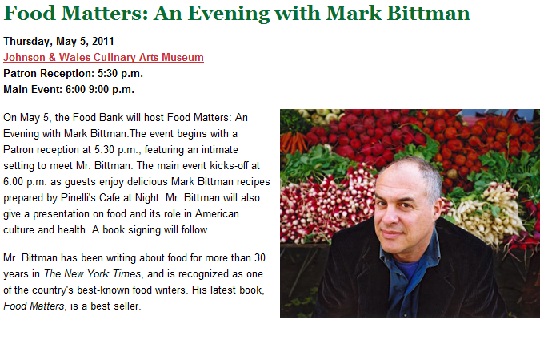 Before I share the black bean soup recipe, I want to tell you a bit more about the The Mission & Work of the Rhode Island Community Food Bank:
*It is a non-profit organization located in Providence, RI. The Food Bank solicits, stores and distributes food products donated by supermarkets, wholesalers, food processors, local farmers and community food drives. The food is then distributed to the Food Bank's statewide network of more than 250 member agency programs. These member agencies then distribute the food directly to people in need within their communities. In the past fiscal year, the Food Bank distributed 9.7 million pounds of food – more than any other year in our history.
Hunger in Rhode Island
* Hunger in Rhode Island has reached its highest level in more than a decade. According to the most recent USDA statistics, 13.7% of all Rhode Island households (1 in every 7) are at-risk of hunger and unable to afford enough food to meet their basic needs.
*Each month, the Food Bank and our network of member agencies, provide food assistance to more than 55,000 Rhode Islanders – an increase of more than 45% since the same time just 3 years ago.
*1 out of every 3 served by the Food Bank is a child.
*Of the 9.7 million pounds of food distributed by the Food Bank last year, more than 2 million pounds were fresh produce.
Seeing that my son is still obsessed with soups, I recently made the Black Bean and Rice Soup from this cookbook. However, I used a shortcut so I could make the soup even faster by using canned beans and already cooked brown rice.
Black Bean & Rice Soup (adapted from Mark Bittman)
2 tablespoons olive oil
1 large sweet onion, chopped
1 red bell pepper, chopped
1 tablespoon garlic, minced
2 15-ounce cans of black beans, rinsed
3 cups vegetable broth
1/4 teaspoon dried red pepper flakes
1/2 cup brown rice
1 cup brown rice, already cooked and cooled (I had some leftover from dinner)
Salt and pepper to taste
Directions:
1. Choose a large pot or dutch oven and heat the oil over medium heat. Add the onion, bell pepper and garlic and saute about 5 minutes until soft.
2. Add the beans, broth and red pepper flakes and bring the soup to a boil. Reduce heat to medium-low and simmer, stirring occasionally, about 20 minutes to allow the soup to thicken.
3.Add the rice and simmer for about 5 minutes. Taste and add salt and pepper to taste.
Please note that in Mr. Bittman's recipe he also used chorizo and dried black beans but I opted to use canned beans and not use chorizo.