Name this Tune: 'Till the one day when the lady met this fellow and they knew it was much more than a hunch, That this group would somehow form a family…."
Yes, the brady bunch. That song pops into my head when I am asked 'Why are you selling our house?'
But let me say this first: I have gotten so much support from you about our home and selling it. Thank You. Now many of you have read about some kitchen upgrades* so I will share some photos.  I will also address 'the question'.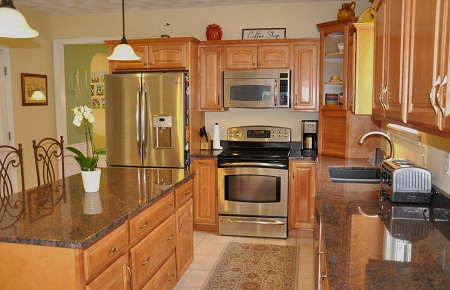 Question: 'Why are you selling our house?'
Multi-pronged answer: Because I made a promise. Before we had babies, I had a great job as a researcher for a pharmaceutical company in Connecticut. My fiance worked in Providence but lived in the middle of Massachusetts near his parents and much of his family. If I moved into his home after the wedding, my commute would be 3-4 hours a day. Bleech. But, if we built a house here, his commute would remain the same and my round-trip would be only 30-40 minutes.
Now, our financial plan got kicked to the side once I had my daughter. I knew that I had one shot at a job I never knew I wanted this badly until my daughter was born: being a stay-at-home-mom. Yup, so we built this house for us to live closer to my job but two years after moving in, plans changed.  So, I told my sweet husband that if, at any time, he wanted to move back closer to his family, than so be it. He raised the green flag recently and we have set the wheels in motion.
Upgrades: Granite counters with under-mount sink, new faucet and new pendant lighting above the island.
What color are your kitchen walls?
p.s. The kitchen is never this clean. In fact, it is command central and always looks well lived-in.