Agh, me time. I love 'me time' and I am not one that needs to pause and try to remember my favorite ways to relax and enjoy time to myself. My top three ways are:
1. A warm bath with no interruptions (reality = fewer interruptions).
2. Reading a magazine in a warm bed with fuzzy socks on my feet and my hair piled on top of my head.
3. Getting some work done outside of my home with few interruptions and in a relaxing atmosphere.
Both 1 and 2 are done here in my home but number 3 occurs at Panera Bread. To be honest, I only get to do that once a month at the most but I cherish it.
I get to eat a good meal, focus on my thoughts and work or people watch and listen to fabulous conversations between friends sitting at the coveted table in front of the fireplace (ladies, I will get that table first next time…you know who you are. wink wink)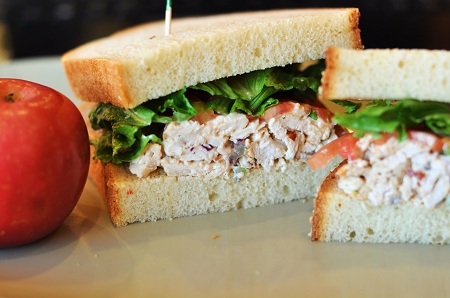 On my latest jaunt, I chose the Napa Almond Chicken Salad and an hour later enjoyed dessert. The sandwich was refreshing and no, it does not contain cheese. As if a kickin' sandwich is not enough, I also enjoy spending money at Panera Bread for two other reasons: I think it is pretty cool that each time I use My Panera card, I earn bonuses for my next visit and I get to toss my change into the Operation Dough-Nation Boxes.
Is there a Panera Bread near you? If you are not sure, visit their website for locations. Also, this company welcomes feedback so feel free to contact them via Twitter or Facebook.
And for dessert? The strawberry smoothie. Boo-yah!!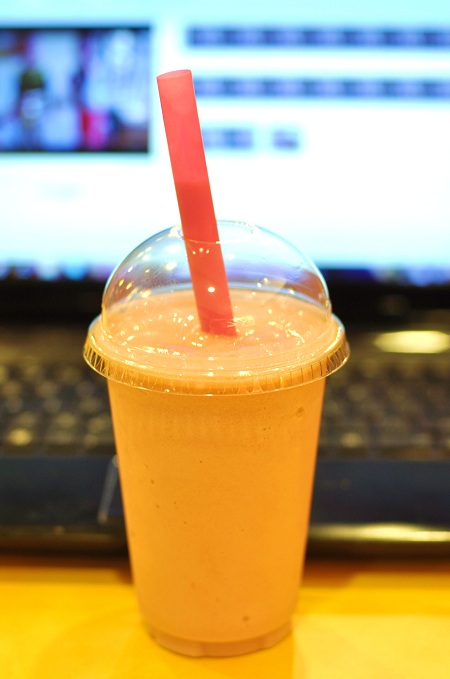 Oh gosh, not a great photo but trust me, a dang tasty smoothie! Better photo here.
FYI aka Disclosure: I was provided with a gift card and some cash for my time writing.  See, I am a bit crazy about Panera Bread so when offered to be a part of this campaign, I was all like 'Oh Yeah'. Keep in mind, I am writing this post and all of these words are mine. Over and Out.