Winter insulation. That is how I refer to my expanded love handles. Now that spring is coming, I need to add this on my to-do list: strip insulation from my hips. Not sure if I should put it above or below 'prepare house for open house this weekend'.
Lucky for me, my son enjoys the kids care room at my gym and this has been invaluable lately. We have been dropping my daughter at school and getting to the gym at 8 am and leave by 9 am. We head home to clean, work, play, clean, work, play and maybe, just maybe put on some makeup and deodorant.
My fitness routine needs to be shaken up a bit as I have been doing the same thing for three weeks: 25 minutes on bike followed by same ab. exercises, biceps, triceps, shoulders and dead-lifts. Time to switch it up.
Today I came home and noshed on some of this Egg and Chicken Sausage Breakfast Pizza. In fact, I had only one slice as my hubby (works at home) and son are home so I did not even get a chance to eat too many slices.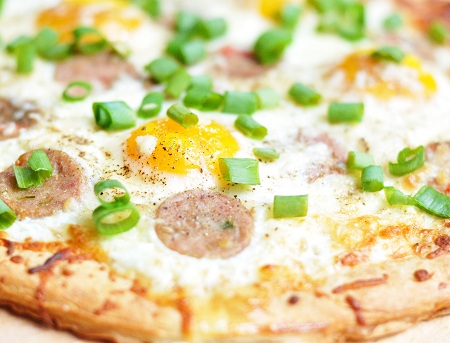 Egg and Chicken Sausage Breakfast Pizza
Pizza shell or make your own
2 teaspoons of olive oil
1/3 cup shredded mozzarella
1 link of chicken sausage (as 'all-natural' as possible: I used Al Fresco), sliced thin
4 eggs
1/4 cup shredded Parmesan
salt and pepper
1 scallion, chopped
1. Preheat oven to 425 degrees F.
2. Spread the olive oil around the shell, leaving 1 inch around the side. Spread the mozzarella cheese around, avoiding the edges.
3. Spread the sausage around the pizza, crack the eggs and place around the pizza but place on the pizza slowly and do not get too close to the edges. Season with a touch of salt and pepper and bake for 12-16 minutes.
4. Remove the pizza and scatter the scallions on top, slice and enjoy.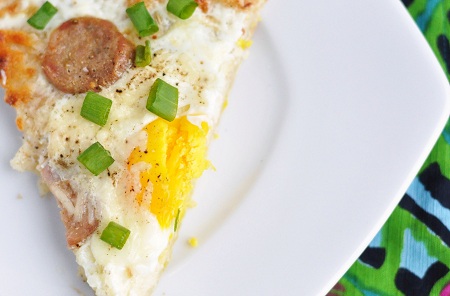 What is your exercise routine?