Let's Go Uconn, Let's Go!! My Graduate School Alma Mater won the NCAA tournament last night and it brings me back, ahem, many a few years. I garnered my Masters of Science from the Department of Immunology at Uconn and attended many B-bal games while I was there.
I recall standing out in front of the Gampel Pavilion many cold days in hopes that some tickets would be given out if the game did not sell out. It was also a common and super sweet habit of members of the community to drive by and hand students tickets if they were not attending the game that night.
What's wrong? Oh, these do not look like hash browns to you?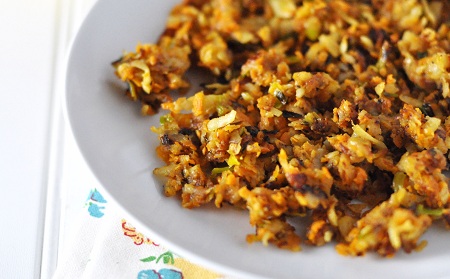 Any-whoo, my kids have been exposed to the standard large chunks of white potato with onion and too much butter hash browns that many of us drool over (salivating) and so my daughter and I decided to done our aprons and take things up a notch.
On the way home from school yesterday, I said 'Bestest girl in the world, why don't we try making some hash browns with white and sweet potatoes and instead of onions, use some leeks.' She said 'Okay Mom, but I need to smell the leeky things first'. Deal.
So, here is the results: Super tasty and full of fiber hash browns with a bolt of extra nutrients. PLUS, no one has the time to chop all these buggers up into chunks when there are ducklings to get off to school so grab your grater and a clean dish towel.
Sweet Potato Leek Hash Browns (serves 4)
Ingredients:
1/2 leek, cleaned, trimmed and sliced
1 large sweet potato, grated
1 large russet potato, grated and squeezed of excess water
2 cloves of garlic, sliced
3 Tablespoons olive oil
Sea Salt & Pepper
Directions
1. Peel and rinse each potato. Pour the oil into a non-stick pan and heat over medium high.
2. While the oil is heating, grate the russet potato and roll the potato up in a clean kitchen towel and set aside.
3. Grate the sweet potato and slice the leek. Toss the leeks into the pan and allow to cook with you unwrap the russet potato.
4. Add the sweet potato, russet potato and garlic to the pan and turn the heat down slightly. Toss with the leeks and allow to cook for 2-3 minutes.
5. Toss again and set aside for 2-3 minutes and then repeat once more. Total cooking time 9-10 minutes. Season to taste.
 Where did you attend College?