Kur-Plop. bounce, bounce, bounce. sauce splattered, mom annoyed. pure fun. You know what I am talking about right? Go ahead. I will wait while you sing. 'On top of old smokey…..all covered with cheese:
On top of spaghetti,
All covered with cheese,
I lost my poor meatball,
When somebody sneezed.
It rolled off the table,
And on to the floor,
And then my poor meatball,
Rolled out of the door.
Are you done? You can't help it and neither could I. As a child, my mom made spaghetti and meatballs frequently. It is a classic, dependable and inexpensive meals to make. So, when I came home with some ground Bison the other day, my mom requested meatballs and then we ended up talking about the song 'On top of old smokey', the kids were intrigued and so I whipped out the slow cooker and created a reliable bu amazingly delicious meal.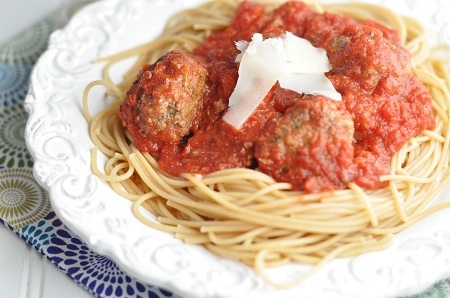 Serve with a side of greens (broccoli, salad etc. you get the drift). You just might be crowned a hero for serving this meal.
Slow-Cooker Bison Meatballs and Whole Grain Spaghetti
Ingredients:
1 can (28 ounces) crushed tomatoes, undrained
1 can (14 oz) diced tomatoes, undrained
a few dashes of dried oregano, thyme and garlic powder
1 egg, beaten
1 lb. ground Bison
1/3 sweet onion, finely chopped
1 clove of garlic, finely chopped
1/2 teaspoon dried oregano
1/2 teaspoon paprika
3 tablespoons Panko bread crumbs
2 tablespoons fresh parsley, finely chopped
course salt and ground pepper
2 tablespoons extra virgin olive oil
Directions:
1. Turn the slow cooker onto low for 4 hours and add the crushed and diced tomatoes, juice included. Add a few dashes of dried oregano, thyme and garlic powder.
2. In a large bowl, beat the egg. To the bowl add the bison, onion, garlic, oregano, paprika, bread crumbs, parsley, salt and pepper. Mix gently but thoroughly. Using your hands, roll into 18 meatballs.
3. In a large pan, heat the olive oil over medium-high heat. Place all of the meatballs in the pan (if it is large enough or else do in two batches), turn the heat down just a bit, place the splatter screen on top of the pan and allow to brown for 1-2 minutes. Flip the meatballs over and repeat two times.
4. Transfer the meatballs into the slow cooker, scoop some of the tomatoes over them and cover. Walk away and enjoy the next 3.5 hours and come back to a true comforting meal.
5. When the meatballs are done, boil a box of whole grain or whole wheat spaghetti according to the manufacturer's instructions. Drain, plate and cover with a big loving pile of sauce and meatballs.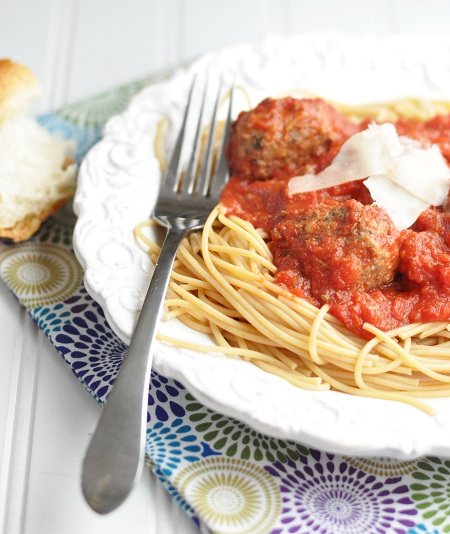 Do you consider spaghetti and meatballs a comfort food?