Puffy is not always a word you feel adoration for. Puffy body parts can be funny when you are little but not so much when you are over 30 39. Puffy eyes are also often a side effect of a college party, aging or disturbed sleep patterns.
My puffy eyes inspired my son to make a statement last night although, he apparently was only reporting his observations. As I mentioned earlier, I traveled to California to an elevation of 7,000 feet, slept very little and then took a red-eye home Sunday/Monday. My tired body crawled into his bed last night and prepared to read him a story. I removed my glasses (seems I need bi-focals), slipped under the blanket and turned onto my side so that I was facing my little guy so I could stare at his eyes.
My son turned to me and made the following proclamation prior to me cracking the book open: 'Mom, you look funny without your glasses and your hair looks bad like that.' Thanks puffy eyes and puffy hair.
Are you done laughing? sweet, let's move on. A few weeks ago, I received a copy of 'The Whole Family Cookbook' by my Michelle Stern, founder of What's Cooking and the blog 'What's Cooking with Kids'. I have been reading the blog and interacting with Michelle for two years now as I enjoy her perspective on feeding her children and family. I was honored when she asked if I wanted a copy of her book and told me that I could share a recipe with you and give a copy of the book away.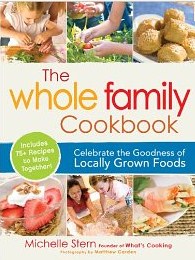 In The Whole Family Cookbook, you not only get 75 recipes (organized as Breakfast, Lunchtime, Dinner, Sides and Treats), you also get a chapter on Raising Locavores, Engaging Kids in the Kitchen and a great section titled 'Make your Own' with a recipe for homemade butter, pancake mix, pesto, hummus, pureed pumpkin, spice rub mix and hot cocoa mix.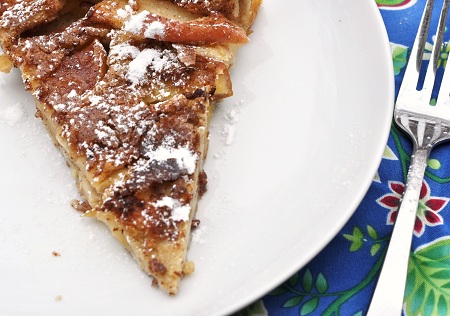 Michelle wants to get your entire family in the kitchen and even indicated which steps in the recipe the children in varying age groups can perform.  For example, in one recipe the 4-6 year old is measuring the dry ingredients, the 2-3 year old can mix them while the 7-10 year old sets the temperature on the oven.  The book finishes with an section offering tips for teachers and cooking in the classroom.
I choose to share the Baked Apple Puffs as we love apples, it requires basic ingredients and it reminded me of an Apple Pie which I knew you would all love. Without further ado:
Baked Apple Puff from the Whole Family Cookbook
Ingredients:
5 Tbsp butter, divided
3 eggs
3/4 cup milk
3 Tbsp granulated sugar, divided
1/2 tsp vanilla extract
1 1/4 tsp ground cinnamon, divided
1/4 tsp salt
1/2 cup flour
2 small crisp apples, I used two organic Fuji apples
Directions:
1. Preheat the oven to 450 degrees. In a small sauce pan or microwave-safe bowl, melt 2 Tbsp of the butter. In a medium-size mixing bowl, beat the eggs lightly. Add in the melted butter, stirring constantly.
2. Measure out the milk, 1 tablespoon of the sugar, the vanilla, 1/4 teaspoon of the ground cinnamon, salt, and flour. Add them to the egg mixture. Whisk together all of the ingredients until the batter is well-combined.
3. Peel and slice the apples thinly. In a 10″ ovenproof skillet, heat the remaining 3 Tbsp butter. Add the apple slices and cook until golden brown, for 5-10 minutes.
4. Pour the batter over the apples. Measure 2 Tbsp granulated sugar and 1 tsp cinnamon, and whisk them together in a small bowl. Sprinkle the cinnamon-sugar over the batter.
5. Bake 15-25 minutes or until browned and puffed. Try not to open the oven during the last 15 minutes of baking, or the puff may deflate. Cut the puff into wedges and serve warm.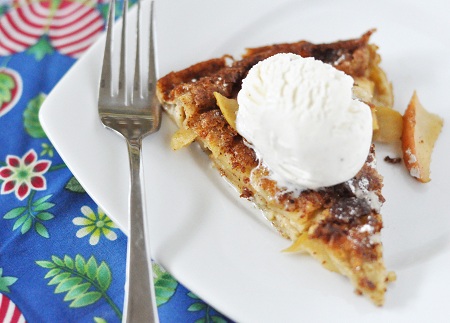 Would you like a copy? Okay, well then be sure to enter!  To qualify:
1. Leave a comment telling me about a favorite family recipe.
For additional entries (you need to leave a comment every time)
2. Subscribe to the Savor the Thyme RSS feed (see the orange button at the top right of the page? yes, that one. click it)
3. Tweet about the giveaway: Win a copy of 'The Whole Family Cookbook' from @savorthethyme http://alturl.com/9x73n'
4. Join the 'Savor the Thyme' community on Facebook but be sure to leave a comment there as well stating that you are entering the giveaway.
The giveaway ends on May 10th at midnight EST. The winner will be chosen by Random.org to pick our winner.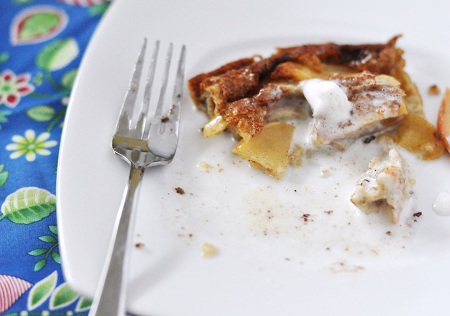 Hey, where did it go? Who could have eaten it?
Disclosure: I received a copy of The Whole Family Cookbook from the publisher at no cost because I am reviewing it so heck, I needed it right?