Ole! Yesterday I told you about my son's innocent and funny declaration about my appearance. Well, last night my daughter made me laugh with one of her statements, but this time it was regarding her daddy.
See, apparently when you turn 7 you automatically inherit a sassy mouth, refuse to cuddle as much unless you are not-quite-awake and try to push your daddy's buttons when he is already losing his patience. For the past few weeks, our daughter has been practicing being a bit out of control. Meaning, she can't seem to calm down and listen easily or take deep breaths and slow down. Well, this can push daddy's buttons so before he came in to tuck her in for bed, we had a chat.
I said 'Sweetie, try to calm down a bit because you are being a bit sassy and out of control and you know it will upset daddy if you aren't listening.' 
Her response: 'I know, daddy is allergic to me'.
HAHAHA. She made me laugh and give her a big kiss on her forehead. I think she may have wiped it off when I left. Stinker. I will give her a double dose of kisses tomorrow.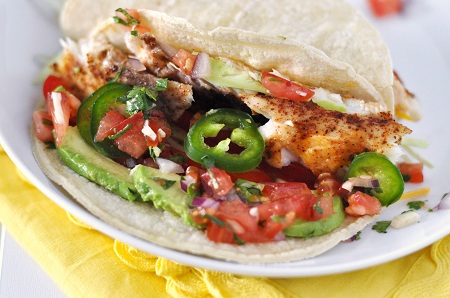 Cinco de Mayo Mexican Baja Grilled Fish Tacos (makes 4)
1 lb. Tilapia
4 white corn tortillas
Dry Rub and Lime Juice:
1/2 teaspoon chili powder
1/2 teaspoon garlic powder
1/2 teaspoon onion powder
1/4 teaspoon cumin
1/4 coarse salt
1/8 ground black pepper
2 tablespoons lime juice
 
Pico de Gallo
1 tomato, diced
1 large clove of garlic, chopped
1 handful of cilantro, minced
1/4 cup red onion, minced
1/3 cup lime juice
a few dashes of course salt
Mix all ingredients together.
Toppings: use whatever amounts you wish
Mexican cheese blend, not seasoned
Shredded cabbage
Avocado, sliced
Red peppers, sliced
Jalapeno, sliced thin
Directions:
1. Drizzle the lime juice over the fish, season with the dry rub and allow to 'marinade' for a few hours if you can.
2. Prepare all toppings and set aside. Prepare the Pico de Gallo and set aside.
3. Spray the grill with non-stick spray or brush lightly with olive oil and then heat the grill on medium. Grill the Tilapia for about 2-3 minutes per side depending on the thickness.
4. If you wish, also grill or warm the tortillas for a minute of so and remove from the grill. Sprinkle the cheese onto the tortilla, place the fish on top of the fish, add toppings and the pico de gallo.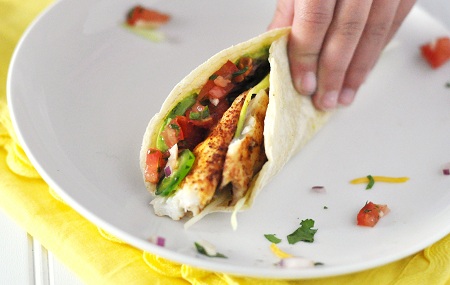 Do you celebrate Cinco de Mayo?