I am not kidding when I tell folks 'my daughter loves meat so much that if a cow walked by when she was hungry, she might take it down'. Recall the Portuguese MIL story I told? well, my daughter almost brings my MIL to tears when she visits and attacks her plate of food.
With that visual created, you can only imagine her face when I announced we were having meatless dinners for the month of May.
Don't worry, the kiddos are still having some sort of meat if they want for lunch but for din-din it is non-meat. Okay, we may slip in some shrimp or a Salmon fillet here and there but so far, none at all.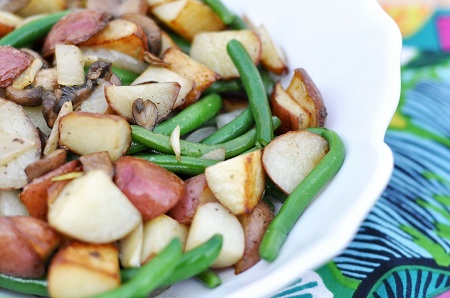 Why? hum. good question. Cheaper, better for the planet and all, gets us to be more creative with out fruits and veggies, a silly experiment, cause we have gone off the deep end.
I received my beloved May edition of Eatingwell Magazine and since they are going meatless for May, my hubby and I thought we would do it as well. Heck, after giving up cheese for 40 days, I feel like I can do this as I get to keep my cheese.
We ate the dish below along side a bowl of fresh fruit for picking and some corn on the cob from Cali. (cant wait until the RI/CT fields are exploding with the golden kernels)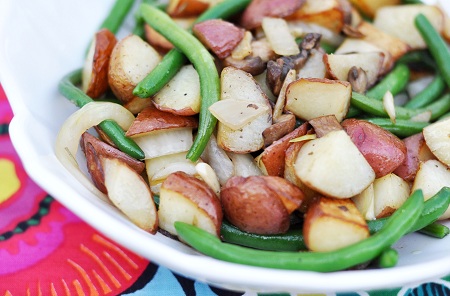 Sauteed Red Potatoes, Mushroom & Green Beans
3 Tablespoons of olive oil
1.5 lbs. baby red potatoes, chopped into ~1 inch chunks
4 oz. baby bella (or any) mushrooms, sliced
1/3 sweet onion, sliced
2 cloves of garlic, sliced
8 oz. frozen green beans, partially thawed
1/2 tablespoon of unsalted butter, optional
Directions
1. Place the green beans in a bowl of lukewarm water to thaw and heat the oil in a large skillet over medium-high heat.
2. Add the potatoes and turn the heat to medium-low heat and cover the pan with splatter screen. Allow them to cook for 10 minutes, stirring often, until they begin to brown and soften.
3.  Add the mushrooms and onions to the skillet, stir and allow to cook for 5 minutes. Add the garlic, green beans and butter, toss well. After 3-4 minutes, add salt and pepper to taste. Serve warm.