Have you ever meet someone online and wondered what they are really like in person? Are they as kind, outgoing, or genuine as they seem to be in cyberspace? Luckily, I was able to finally meet Tina Haupert of Carrots 'N' Cake last year and she was just as wonderful as she 'seems' on her blog.
I was first able to spend a bit of time with her at a Stonyfield luncheon and then more time with her at a blogging retreat last summer. She is so sweet, a great listener and I am dang tootin happy to know her. So, when she sent me a sweet tweet and asked me to review her book, I was honored.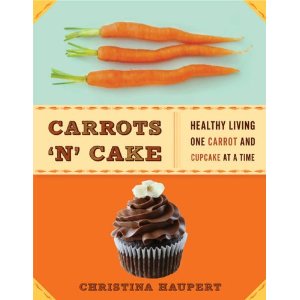 Her book, Carrots 'N' Cake by Tina Haupert chronicles her struggles to get healthy, shares snippets into her childhood, preparing for her wedding and how she began her blog; all with yummy recipes scattered throughout. And to top it off, there are cookie recipes in the book as well.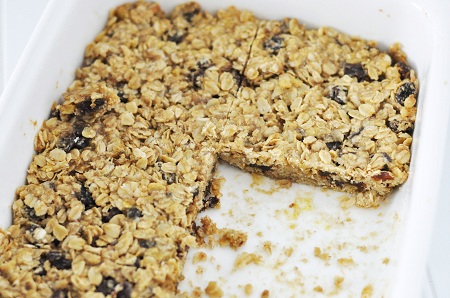 What is original about this book is that she shares so much more than recipes or exercise plans: she is honest about her weight and eating struggles, a necessary surgery, her work dilemmas and shared some stories about how her mom struggled financially which made healthy food choices less frequent (and reminded me about my mom raising us as a single mom).
My favorite part is that Tina shares all of this with a sense of humor and that makes any book a more enjoyable read.  So onto one of Tina's tasty recipes for Oatmeal Raisin Bars.
Oatmeal Raisin Bars (make 9 Bars although I cut them a bit smaller for kiddo consumption)
Sometimes it is easier to make a pan of bars than a batch of cookies. If you are an oatmeal cookie person like me, these are a must.
2 cups old-fashioned oats
1 cup raisins
3/4 cup all-purpose flour
1/2 cup packed brown sugar
1/2 cup canola oil
2 eggs
1/2 teaspoon ground cinnamon
1/4 teaspoon salt
Preheat the oven to 350°F, and spray an 8- by 8-inch baking pan with nonstick cooking spray. Combine all the ingredients in a large mixing bowl until smooth. Spread the batter in the baking pan, and bake for 25 to 30 minutes, until a wooden pick (or knife) inserted near the center comes out clean. Let the bars cool completely before cutting.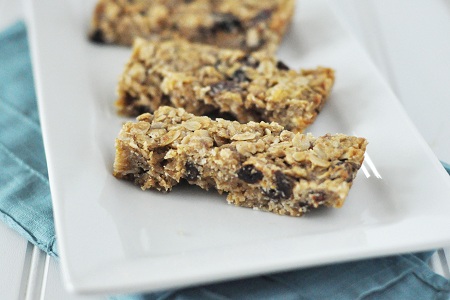 Reprinted with permission from Carrot's 'N' Cake  © 2011 by Tina Haupert, Sterling Epicure, an imprint of Sterling Publishing Co., Inc.