Sisters are tricky. annoying. even mean sometimes. However, this tricky, annoying, mean sister is also the love of our son's life.
His American Idol for sure. As I snuggled with our son last night he began his sniffly whimper and shared with me: 'Mommy, idabel (yes, pronounced i-da-bel) likes to trick me because I am 5. She is annoying.'
I kissed him and gave him a big squeeze knowing he just needed to share his sleep induced frustrations.
Then he asked: 'Mommy, can I go hug Idabel goodnight?'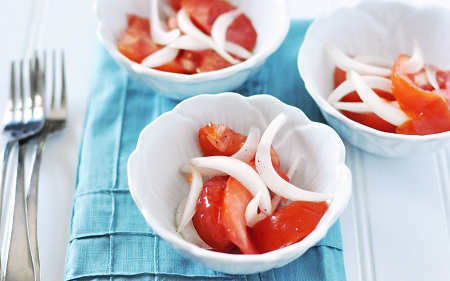 The tomato onion salad recipe below makes me smile because (yes, here comes another story), I walked in the door yesterday famished. My hubby was in the kitchen so while I assisted the children with shoe removal etc., I said: 'Honey, can you please throw something quick together for me to eat as I am so hungry my belly feels sick'.
Two minutes later, I had this lovely salad in front of me*. The hubster shared that his Mom made this all the time for dinner. Simple and Delish!
Tomato-Onion Salad
1 ripe organic tomato, sectioned
1/4 sweet onion, sliced
extra virgin olive oil (evoo)
lite rice wine vinegar
kosher or sea salt and ground pepper
Directions:
Toss tomato and onion in a bowl and drizzle with EVOO, vinegar, salt and pepper.
*The kids ate the salad before I had a chance.
What are your favorite salad ingredients?