Who needs the traditional Mexican Fried Ice Cream? Not me, I say! However, when you have friends over to celebrate a birthday, people expect some sort of sugary celebration.
I had been meaning to try Rhubarb again (it has been 20 years) and since the stalks seemed to be waving to me from a basket at Stop & Shop, I decided yesterday was the day to give it a go. Plus, I figured all the youngins would have a more favorable opinion about trying a new fruit if it was combined with a favorite and a touch of extra sugar to boot therefore, it was time to create a Strawberry-Rhubarb sauce.
In addition, our friends are huge Mexican food lovers so I told them that I would make a non-fried ice cream and that peeked their interest although I had no idea how I would do it. While peering at my overly organized pantry (about the only thing I have organized), I spied the graham crackers and knew what to do.
Go ahead, take a bite.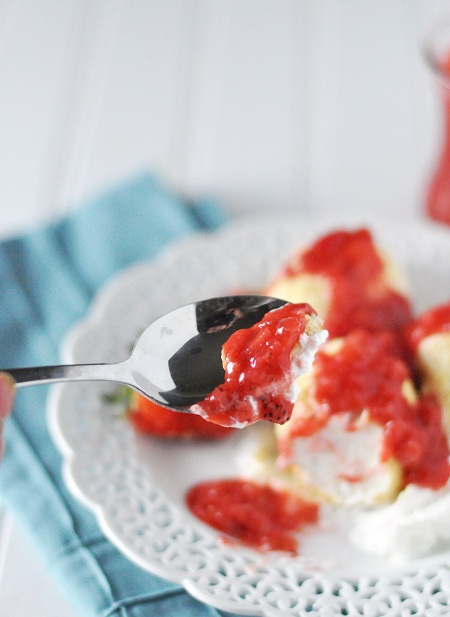 WARNING: the words devour and dollop are below. Read at your own risk.
Graham Cracker Ice Cream Pie Sundae
3 scoops of real ice cream (you know: cream, milk, sugar)
1/4 cup graham cracker crumbs (place a few graham crackers in bag and smash em or pulse in a processor)
1 cup of heavy cream
1 tablespoon of sugar
Strawberry-Rhubarb Vanilla Sauce
1 cup of chopped rhubarb
2 cups of organic strawberries, chopped
1 teaspoon vanilla
1/3 cup sugar
1/4 cup water
For the ice cream:
1. Place the graham cracker crumbs onto a plate. Using an ice cream scoop, obtain 3 scoops of ice cream, roll each into a ball and then roll through the graham cracker crumbs until covered. Place onto a plate and put in the freezer until ready to top with sauce and consume.
2. Meanwhile, in the bowl of an electric mixer, fitted with the whisk attachment, combine cream and sugar. Whisk them on medium speed for about 2 to 3 minutes until soft peaks form. Place into the refrigerator until ready to use.
For the sauce:
1. Place all of the ingredients into a pot, bring to a boil, reduce heat and allow to simmer for 30 minutes, stirring occasionally.  Allow to cool and store in the refrigerator until ready to devour.
2. On a new plate, place a dollop of the whipped cream, place the ice cream balls on top and then drizzle the sauce on top. Enjoy!