cuddles. snuggles. flowers. flip-flops. fire alarms. Sounds like most Mother's Day activities right? The day began as in many households: with the kids and  husband cling and clanging pots and pans in the kitchen while preparing a breakfast for mom.
My husband instructed me: sleep late, stay all snuggly with your stuffed animal bunny in bed and just relax. I was doing that until 7:15 when the first of two fire alarms went off in the house. However, I did not jump up and start prepare to evacuate as I knew the root cause thanks to my sense of smell: roasting bacon in the oven. In the distance I heard 'don't worry'
I did my best to fall back to sleep but how is it possible with the scent of coffee and bacon sneaking under my bedroom door. On the other side of that door I could hear our sweet babies whispering 'don't open the door ben' and 'don't talk so loud id-a-bel' and so I pretended to sleep while waiting for the little ones to sneak up on me.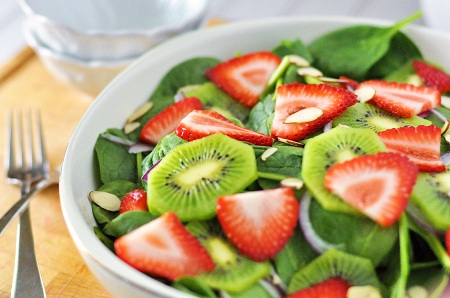 Breakfast came and grandma was served as well. I was then presented with the following: a vase of flowers, two handmade cards, a candle in a scent the kids spent hours choosing, a soccer ball shaped picture frame and a pair of flip-flops that looked familiar. My husband said 'I found them in a box in the basement so I thought you may have forgotten about them'. HAHAHA! Shouldn't he know by now that we do not forget any-thing?
For my mom, I bought her some clothes and wanted to make her a nice lunch so before she left Sunday, I made her a light and refreshing salad (to pair with the ice cream cake that grandpa felt was a necessity). I made a nice plate for her and two little cutesy bowls for the wee-ones.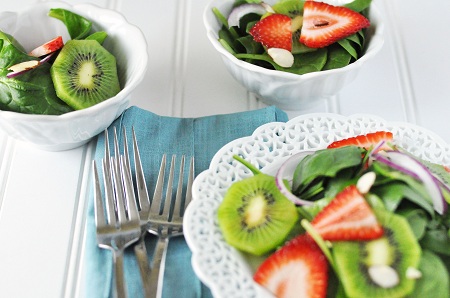 Kiwi Strawberry Spinach Salad
1 bag of baby spinach, rinsed and dried
1 kiwi, sliced
1/3 pound strawberries, sliced
1/3 cup sliced almonds
Handful of red onion, sliced
Place all the ingredients in a bowl and toss with your favorite light vinaigrette.
Thank You to my husband and two children for a great day! What did you do for Mother's Day?