Feet have growing pains you know. It is true as our 5 year said so. I asked him to put away his toys and his response was 'I can not walk as I have too many growing pains in my feet.'
I get those around my waist. Odd.
So, 'Meatless May' is continuing and instead of making a bean soup, I opted for a fun fried rice the other night. I decided to include beans and thought they might get thrown at me but instead, the dish was a hit with three of us and for the fourth, it was only okay. 'Not the worst ever but not her favorite'.
Vegetable Bean Fried Rice
3-4 cups of cooked rice (I used 2 cups of jasmine and 1 cup of leftover brown rice)
3 organic eggs, beaten
3 teaspoons canola oil
1/2 large red bell pepper, chopped
1/3 red onion, thinly sliced
3 cloves of garlic, chopped
1/2 cup frozen peas, thawed
1 can of cannellini beans, drained
2 tablespoon reduced-sodium soy sauce
2 tablespoons light rice vinegar
Directions
1. Cook rice according to manufacturer's instructions
2. Place peas into a bowl of water to thaw. Heat .5 teaspoon of oil in a wok or large skillet over medium heat.
3. Add the eggs and leave to cook for about 30 seconds. Flip and cook 30 additional seconds. Place aside on a plate.
4. Add the 1 teaspoon oil and add the red pepper and onions. Allow them to cook for 2 minutes, stirring frequently. Then add the garlic, mix well and allow all the cook for 2 minutes.
5. Drain peas and add to the pan along with the beans, toss well and cook for 2 minutes. Remove the vegetables from the pan and set aside.
6. Add the last 1 teaspoon of oil to the pan and turn the heat up to medium-high. Add the rice, spread it out evenly and leave it alone for about 3-4 minutes as it browns. Don't move the rice, just allow it to 'fry'.
7. Add the vegetables and eggs back to the pan along with the soy sauce and vinegar. Toss well, season if necessary and serve.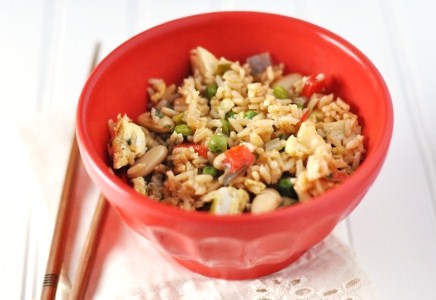 Have you ever added beans to fried rice?