I am a bit ashamed with a touch of guilt thrown in for effect. See, I have not shared my amazing experiences at Camp Blogaway or Blogher Food yet I am about to share the deets on the final day at the King Arthur Flour retreat.
Alas, we will proceed. Day 2 began with a short stroll over the main part of the Inn for a lovely breakfast with Amber, Fiona and Aimee. On my way over, I ran into Sara Moulton and her husband (I had spent some time during dinner the night before talking hip-hop with him!). Amber, Fiona, Aimee and I then piled into my car and shared a short ride to King Arthur.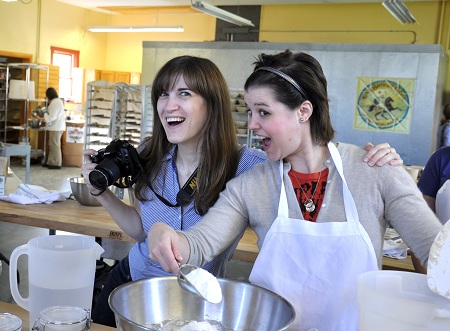 The day began examining the pizza dough we made the prior day (Team Awesome vs. Team Brilliant) and continued to prepare it for our lunch. While the pizza dough was resting, we went onto to learn how to make two pie crusts. Naturally we all want flaky yet tender crust and most of us think of them as mutally exclusive.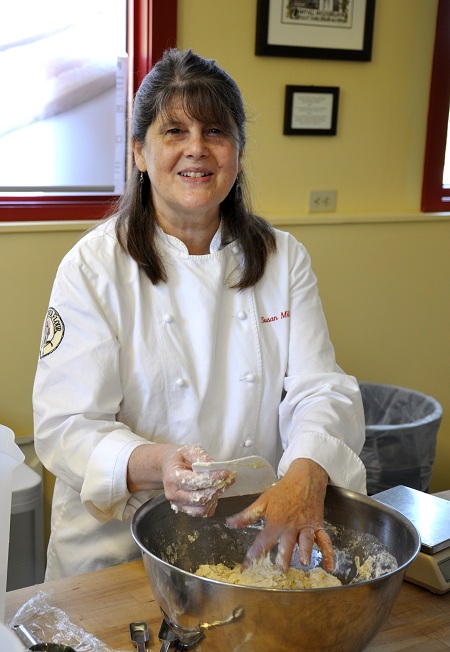 Granted, I am not generally an avid baker however, while I was making the pie crusts I began to hum 'Whole New World'. Three main points about making pie crust/dough were driven home:
1. Use ice cold water and use it sparingly. I must admit it was rather cool to see how the dough/crust did come together with so little water. Patience.
2. First cut in one half of the butter, work it in and then use the rest and be sure to leave some chunks in it. You do not need to work in all of the butter.
3. Um, I guess #2 should have been split into two lines.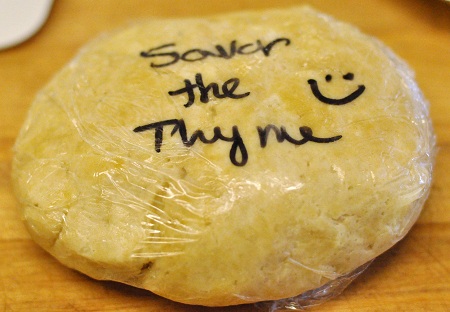 Oh and then there is how to properly roll the dough out. Forget the slap the pin on the dough and roll to your hearts content. No, no. You place the rolling pin in the center of the dough and roll out. Re-center and roll out in another direction. Repeat until the dough is at least inch wider in circumference then you need.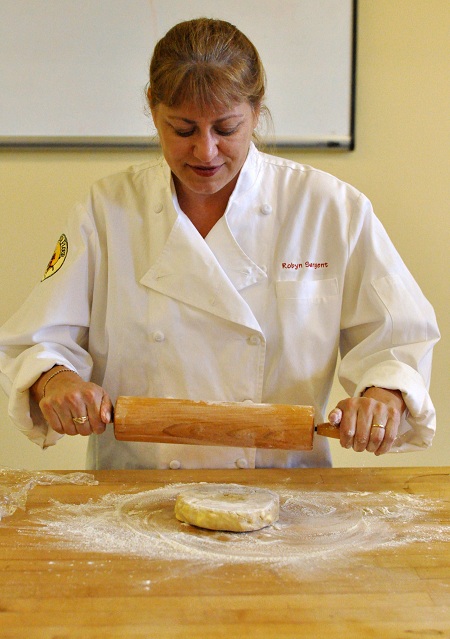 Then we learned some fancy edge techniques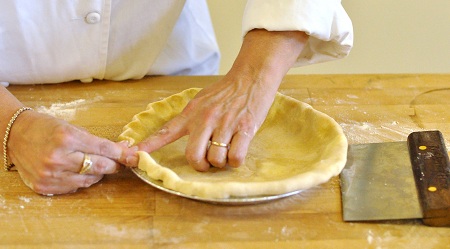 The next dough we made was a 'Pate Sucre' which we used to make a Strawberry & Rhubarb Pie. The dough was decadent and indulgent and not for the everyday however, this is the dough to make when you want to kick it and make an a-ma-zing dessert. I believe a the word 'scrumptious' was invented for this reason.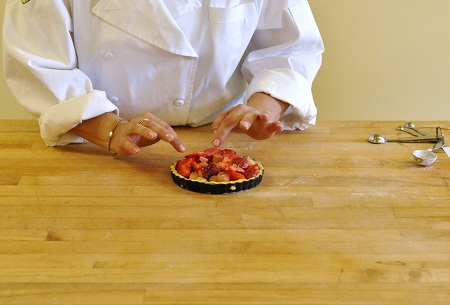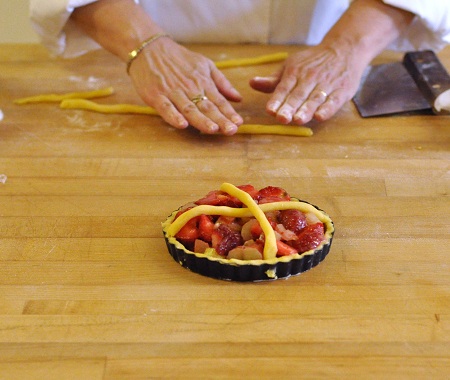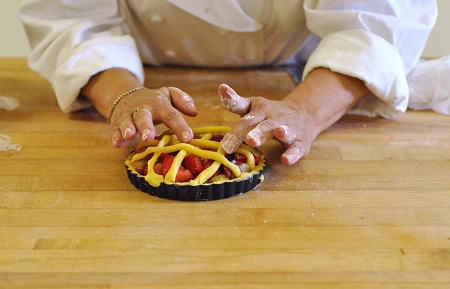 Back to the pizza: We went on to prepare to make the pizza. But oh no, we are not simply sticking these pies into the every day oven. Watch your mouth! These babies are going into a wood-fire brick oven and not any wood-fire brick oven, look at this monster.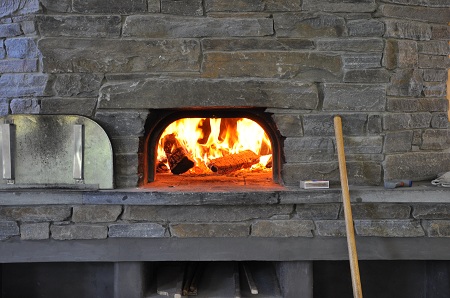 Kelsey and I were first up and as I expected, I shoved the pizza in a bit too far but the Masterful Instructor Michelle helped me out of the predicament and the pizza was saved. After gulping down most of the pizza pie (and a bit more wheat berry salad), I headed back over to the KAF store and caved to some of my baking supply desires.
I also want to send shout-out to the cutie-patooties behind the coffee counter at the King Arthur Store. Those eager to please women were just learning to make lattes and iced lattes that had just begun being offered at the store. One of them overheard me talking to someone about wanting an iced latte when she offered to give it a go and not charge me if I didn't like it. Thank You Sweets – great job!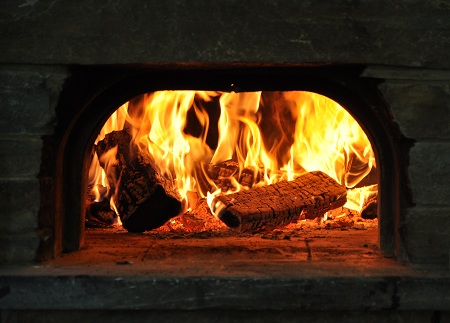 Here are the fabulous bloggers and writers that I was lucky to spend time with at this event:
Maryellen
Love & Scraps
Recipes, Rantings and Ravings from a Vermont Kitchen
Kelsey
The Naptime Chef
Fitting great food into family life
Casey
Good. Food. Stories.
A chronicle of delicious conversations
Amber
Bluebonnets & Brownies
Tex-Mex and Southern comfort food
Fiona
A Boston Food Diary
Donna
Cookistry
Glenda
Busy-at-Home
Living abundantly on a frugal budget.
Corin
Seven Days
Vermont's Independent Voice
Jean
Northeast Flavor
for all things delicious! Peeps, I had just discovered this new magazine a month ago and am so dang touched to know these women and support their magazine. Check it out!
Aimee
The Apron Archives
vintage traditions in today's homes and kitchens