I like sharing in every sense of the word as we all benefit in every way. I especially like sharing my passions and take joy is watching others share their passions.  At King Arthur Flour, high quality flour and product, made consistently, is their passion.
I am also going to share that as I write this post, my pants are unbuttoned. Yes, as in Al Bundy style and this is thanks to all the yummies I spent days eating upon my return from Vermont. Looks like someone is hitting the gym repeatedly this week.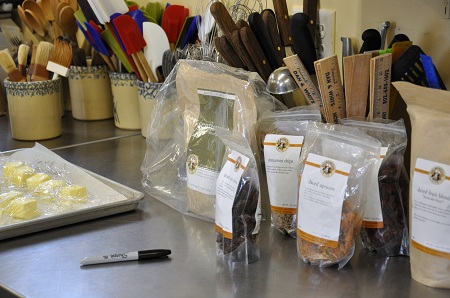 Although I already mentioned 'Day 1', I want to share more detail:  Chef Robyn started off letting us know that King Arthur Flour (KAF) is an employee owned company and has amazingly strict standards (protein content must be within .1%) as they want a consistent high quality product that people can rely on for all their baking needs. She then taught us how to make a basic bread…..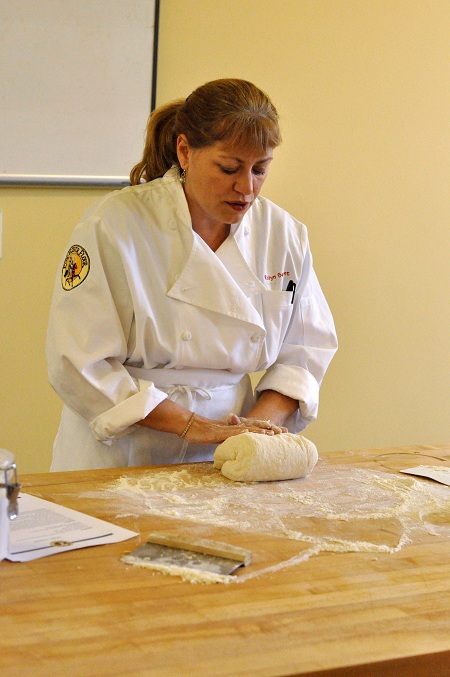 how to make a braided bread….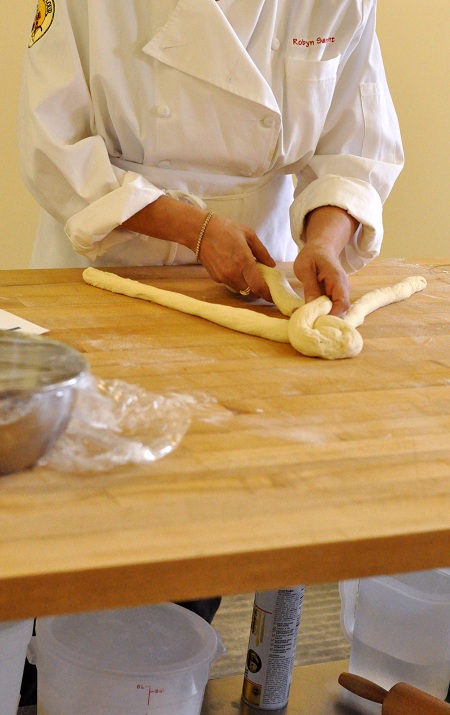 And then we made scones. Robyn also taught us the proper way to knead dough, that KAF considers one cup of flour to be about 4.5 ounces (they aerate the flour plenty while measuring) and showed us how easy it is to compost. Oh, and check this: they measure out each dry ingredient and before they mix up all thedry ingredients in the bowl, they do a visual survey to make sure they have everything in there = brilliant tip and necessary for us who wonder away to see why the kids are suddenly so quiet.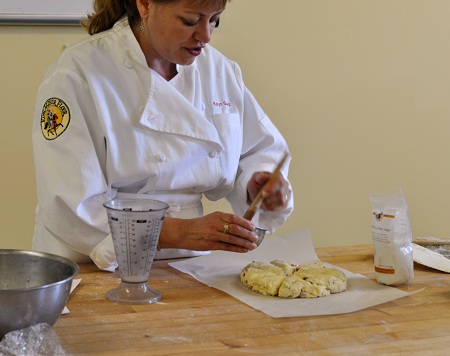 Another super cool aspect of these session is that Sara Moulton was in the back of the room and soon after her arrival I noted Converse sneakers on her feet. As in old school converse. I mentioned to her that I loved how she could carry them off but if I wore them, I would feel as if I was trying to look younger. She remarked that at her age, you don't care what others think. Word.
Next up was learning about all the different flours and how each performs differently, This was driven home with the same muffin recipe made with each flour – talk about varying texture.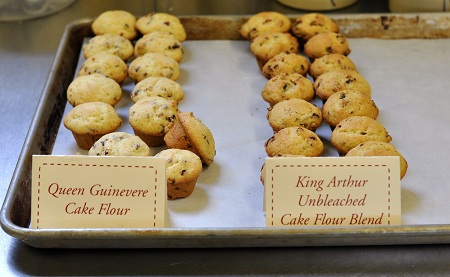 To wrap up Day 1, Sara Moulton and her fabulous Converse, demonstrated some real cooking techniques (as in breaking down a chicken and more!) and created all of the recipes that were being prepared for our dinner. She shared her excitement over her book 'Everyday Family Dinners' won the IACP award and about her new show on PBS.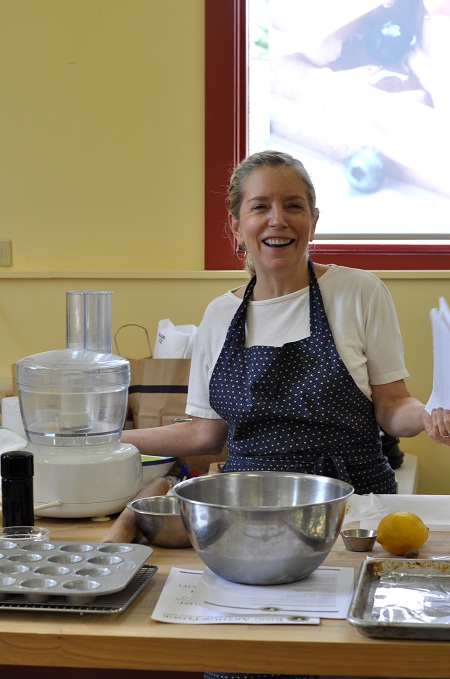 After the fabulous lesson with Ms. Moulton, we ran back to freshen up in preparation for our meal.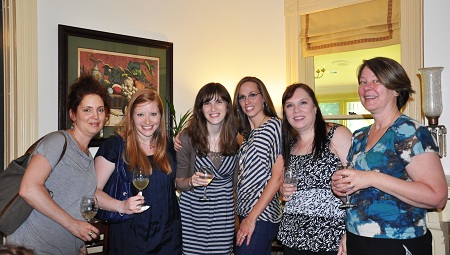 The meal highlighted food from many local Vermont vendors.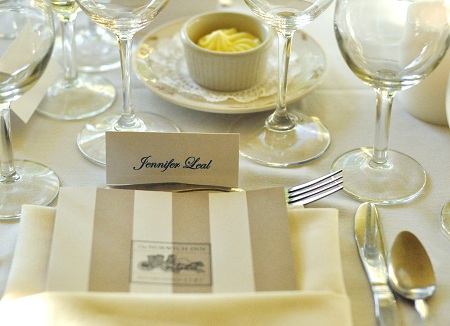 The First Course was Chevre Souffles & Arugula Salad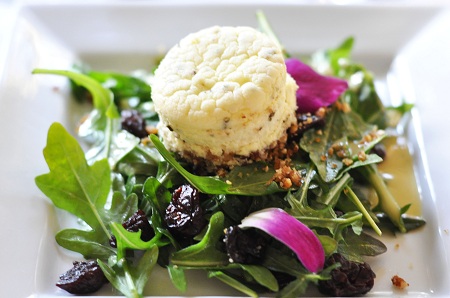 Second Course: Spinach Stuffed Misty Knoll Farm Chicken Breasts served with Wild Mushroom, Herbed Spaetzle, Spiced Peas and Onions. Let me tell you, I had a moving experience when I took my first bite of the peas. Why you ask? These were fresh peas. As in picked that day and as soon as I took my first bite, I realized that I had not had fresh peas since my sister and I used to pick them from my Grandma's garden. I felt quite emotional with that memory and found I had to look down at my plate for a minute as I felt my eyes moisten with tears.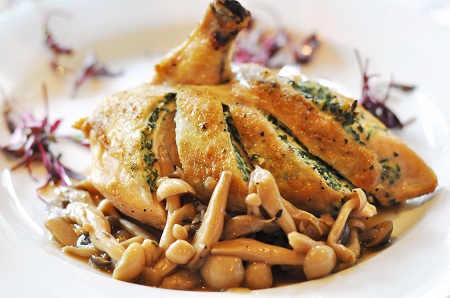 Dessert: Buttermilk Ginger Doughnuts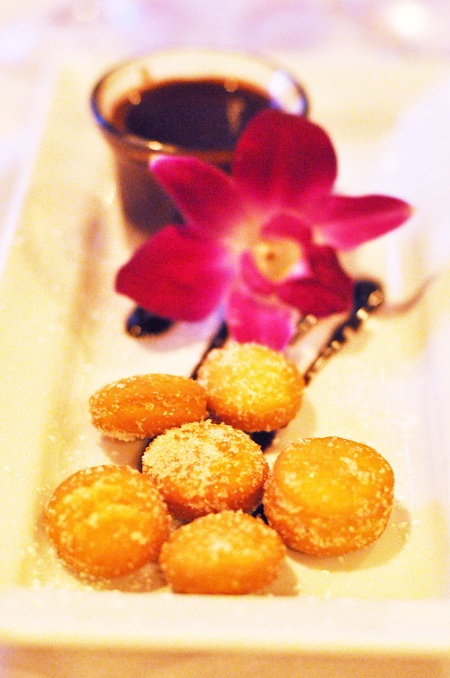 Ms. Moulton and all of the diners then thanked the chefs for our fabulous dinner.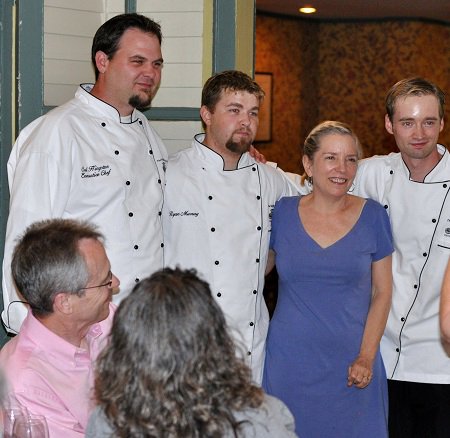 I still need to share the details of Day 2, a tomato tart recipe that will knock your socks off and a list of all the fabulous bloggers and writers that attended the event!
What is a favorite passion of yours that you like to share?