So many folks say that women are the hardest to buy for but I disagree. Personally, I think many women would be thrilled with a sweet, heartfelt message in a card or lovingly placed gift certificate to our favorite spa. Maybe even breakfast in bed, a nice foot rub, or a good house cleaning are all ways to make us smile but what do you get for your husband and dad for Father's Day?
My husband has many tools and besides suggesting a wallet every few years, he usually just says ' don't get me anything'. Thanks for the help honey. My dad says 'Oh honey, save your money'. That is good advice but is not helpful when it comes to gift buying.
So, what do you get the men in your life if you they already have a power drill or say you want to give them some more sentimental this year? I recall that my hubby sincerely loved the photo book I gave him for Father's Day three years ago when our daughter finished preschool, so that is my plan again this year as our son just completed preschool. 
The good news (in fact, there is no bad news here) is that from now until June 19th, you can create two 8×10 photo books for the price of one on the Kodak Kiosk! Buy one and get the second one free – it is the ultimate last minute gift that doesn't sacrifice thought or sentiment. Luckily, I have two CVS locations near me (Kiosks are also at Target) so I can take advantage of this deal.
What's wrong? not into photobooks? Do not fret as the Kodak Kiosk also lets you create other great gifts for any occasion, including a Personal Greeting Card or a print photos using the PYNK system (super cool as photos printed to fit your photo frames).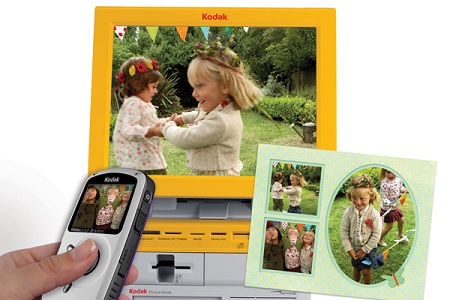 Don't worry if you don't have pictures with you when you get to the store because now you can access all of you photos on Facebook directly from the Kiosk. Just connect to Facebook and use any of your images in your photo book.
Visit Kodak.com to find the Kodak Kiosk nearest you so you can get started on your Father's Day Gifts.
Disclosure: This is a sponsored campaign with Kodak & the Mom Bloggers club that I only accepted as I love the product. Off to make my photo books.