Being five years old is boring. You have to believe that because my son told me so last night. He then followed it up with 'I wish I was a grown-up'.
I tried sharing some great knowledge with him to convince him why being a young child is such a better deal however, I was simply spewing useless words at him.
Since meatless May is over, we celebrated the first night with some Greek Bison (Buffalo) Pita Pockets.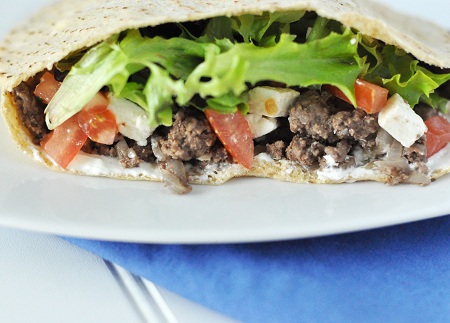 Greek Bison (Buffalo) Pita Pockets (yield 4)
Ingredients:
1/2 teaspoon olive oil
1 lb (16 oz.) ground bison
1/4 large sweet onion, finely chopped
3 large cloves of garlic, chopped
3/4 teaspoon greek seasoning (I used Penzey)
3/4 cup nonfat greek yogurt
1 teaspoon lemon juice
salt and group pepper to taste
4 medium to large whole wheat pita pockets
1 organic tomato, chopped
1/2 cup reduced fat feta, chopped/crumbled
2 cups mixed greens or any lettuce, torn
Directions:
1. Heat the oil in a large nonstick skillet over medium-high heat. Add the onion and garlic, toss well and saute for 1 minute.
2. Add the bison meat to the skillet, break up the meat well and then add the greek seasoning. Continue cooking for 5 minutes, stirring often until the meat is thoroughly browned.
3. Meanwhile, combine the yogurt and lemon juice and set aside. Once the meat is done cooking, taste and season if necessary.
4. Cut off just enough of the pita to make an opening large enough to fill it without ripping the edges.  Smear some of the yogurt sauce onto the pita and then layer in the meat, tomatoes, feta and lettuce. Enjoy immediately.