What, did you think I would just go on about dinner at King Arthur and making pie crust and not even give you a recipe? dang, that would be rude.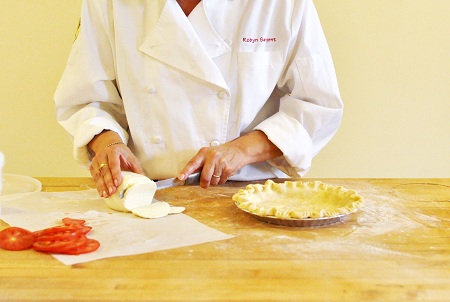 I am too sassy to be so rude. Seeing that this is a butter filled pie crust, I must insist you load on the tomatoes and protein rich mozzarella. I mean, you need your calcium and lycopene after all.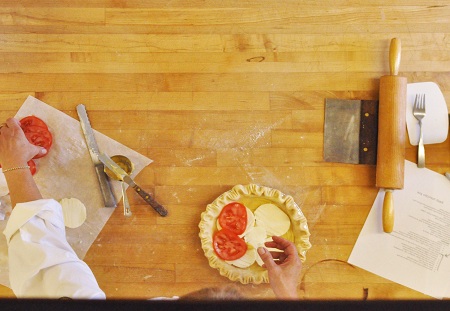 I altered the recipe from King Arthur Flour a bit so go ahead and use more mustard if you wish.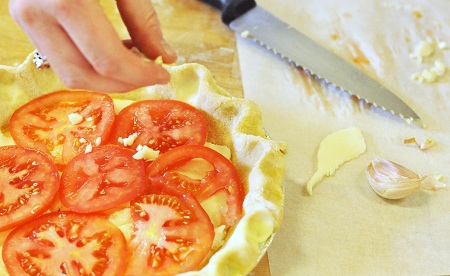 Savory Summer Fresh Tomato Pie
Adapted from King Arthur Flour
Pâte Brisee Pastry
Ingredients
1 cup King Arthur All Purpose Flour
3/4 cup King Arthur White Whole Wheat Flour
1/2 teaspoon salt
1 1/2 sticks unsalted butter, well chilled and divided
4-6 tablespoons ice water
Directions
1. Combine flours and salt in a mixing bowl.
2. Cut in half the amount of butter until only pea sized pieces remain.
3. Cut in the second half of the butter less finely, leaving fairly large chunks throughout. Add ice water, only a couple tablespoons at a time, mixing after each addition. The dough is ready when you can ball up the dough and it holds together.
4. Shape the dough into a flat disk about 1″ thick, wrap in plastic wrap and refridgerate for at least 20 minutes.
5. Preheat the oven to 400 degrees.
Tomato Pie Filling
Ingredients:
1 Tablespoon Dijon Mustard
1 pound fresh Mozzarella cheese, sliced thinly (use a ball of Mozzarella, not shreds)
1-2 large fresh organic tomatoes, sliced thinly
2 tablespoons garlic, chopped
1 teaspoon dried oregano
Salt and Pepper to taste
2 tablespoons extra virgin Olive Oil
Fresh Basil, reserved for after baking
Directions
1. Roll the pastry out to fit into a 9″ pie tin. Rolled out pastry should extend at least 3/4 -1 inch past the pie plate edges . Place the rolled out dough into the pie plate.
2. Trim excess pastry and flute the edge as desired (3 options shown below but feel free to invent your own pretty detail). Spread the mustard over the bottom of the pie, spreading evenly. Top mustard with the mozzarella slices and then layer the tomatoes over the cheese. Sprinkle with garlic, oregano, salt, and pepper.
3. Drizzle olive oil over the top and then bake this piece of heaven for 35-40 minutes. Do you best to allow it to cool before chowing down.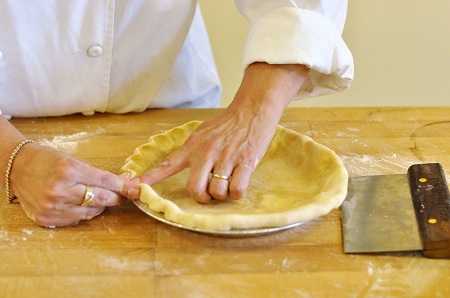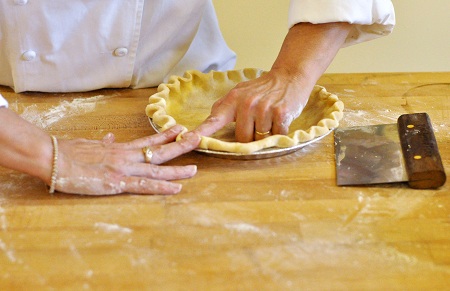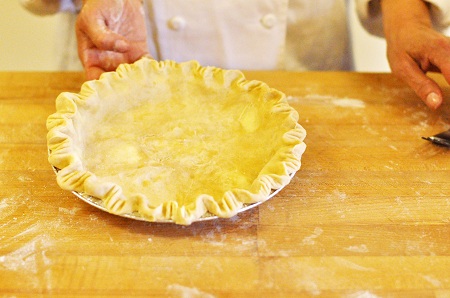 Not shown is the fresh basil scattered all over the top 🙁