Hey! This is Aggie, from Aggie's Kitchen. Jennifer asked me over today and I'm so happy to be here!
Do you ever meet another person and sort of feel like you are living parallel lives with them? I have felt that way several times, and I have to admit, I kinda like it. It's comforting, you know? I feel that way with Jennifer…with our kids being very close in ages, I find myself chuckling or shaking my head at the stories she shares. For instance, I didn't know what Tooty Tawas until I saw her daughter's school performance and found myself feeling a bit of deja-vu 3 months later watching my own son leading the Tooty Ta at his "End of Kindergarten" performance this past week. Yes, it's Tooty Ta, and it's cute and I'm sure most of you have absolutely no idea what I am talking about.
Anyway, when Jennifer asked me if I would like to share a recipe over here on Savor the Thyme it was a no-brainer. From what I can see, Jennifer and I share a lot more than the same family "structure", we also share the same values of health and living well. I really like that. I know that Savor the Thyme is just coming off of Meatless May so what better recipe to share with you than a burger. But wait…not just a burger…but a good healthy burger, a Smoky-Sweet Chipotle Turkey Burger.
I started making a version of this burger a couple of summers ago. It was inspired by a turkey burger that Oprah raved out about on her show. Since turkey burgers have a reputation to be on the blander and dryer side, I borrowed a trick from the chef demonstrating the burger on the show and added sauteed green onions and celery to the meat mixture resulting in a boost in flavor and juiciness. Along with that I found that adding hand-shredded cheddar cheese and a few splashes of Chipotle Tabasco really took these burgers over the top. The mango chutney infused barbecue sauce sweetens up the kick from the chipotle and the potato rolls are soft, slightly sweet and the perfect bun. These burgers have become a favorite around here and I'm pretty sure once you try them yourself you'll find out why.
Thanks for having me over Jennifer, I hope you and your readers have a wonderful summer full of good food and smiles!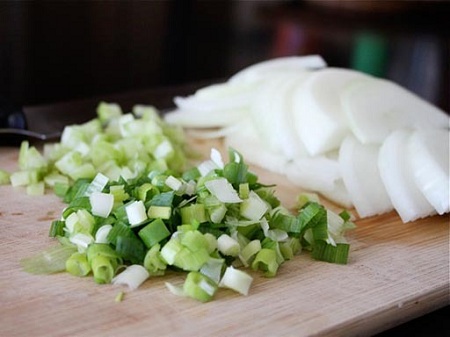 Smoky-Sweet Chipotle Turkey Burgers
Recipe from Aggie's Kitchen
makes 8 mini burgers
CARAMELIZED ONIONS
2 tsp olive oil
1 large Vidalia (or sweet) onion, thinly sliced
Pinch salt and pepper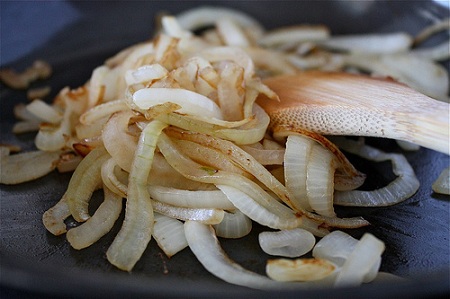 BASTING SAUCE
1/3 cup of your favorite BBQ sauce
2 TB mango chutney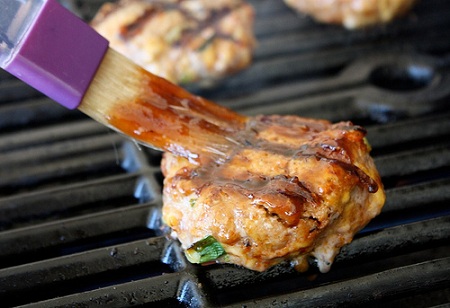 CHIPOTLE SAUCE
1-2 TB Chipotle Tabasco sauce
1/4 cup plain non-fat Greek yogurt or reduced-fat mayonnaise
PATTIES
1.25 lb extra-lean ground turkey
2 tsp olive oil
1 celery stalk, finely chopped
2 green onions, finely chopped
1 TB Chipotle Tabasco sauce
1 tsp smoked paprika
1/2 cup shredded sharp cheddar cheese
good pinch salt and pepper
8 whole wheat potato rolls
Prepare a medium-hot fire in a charcoal grill with a cover, or pre-heat a gas grill to medium-high. For best results, use a non-stick grill which helps to avoid adding oil.
On the stove, heat 2 tsp olive oil in a non stick skillet. When oil is hot, place celery and green onion in pan. Season with salt and pepper. Cook until soft, about 8-10 minutes. Set aside to cool. We are going to add these to our burger mixture later.
In the same nonstick skillet, heat 2 tsp olive oil in . When oil is hot, place sliced onion in pan. Season with good pinch of salt and pepper and cook. Saute onions until browned and caramelized, about 15-20 minutes, stirring occasionally.
While onions are caramelizing, prepare basting sauce and Chipotle Sauce.
To make Chipotle Sauce: Combine Greek yogurt (or mayo) and Chipotle Tabasco in a small bowl and mix well. Cover and refrigerate until ready to use.
Combine barbecue sauce and mango chutney in small bowl and mix well. Cover and refrigerate until ready to use.
To make patties: Combine ground turkey, Chipotle Tabasco, smoked paprika, low-fat cheese and cooked and cooled green onions and celery in a large bowl. Season with salt and pepper. Gently combine and mix using hands or large spoon. Form into 8 even-sized patties; do this by scoring meat mixture in half, then quarters, then eighths.
Use a non-stick canola oil spray, to prevent patties from sticking to grill.  Spray patties directly with spray before placing on grill.
Place patties on grill rack, cover and cook until bottoms are browned, about 4-5 minutes. Using spatula, flip patties and cook additional 4-5 minutes. After flipping, use brush to baste turkey burgers with mango BBQ sauce. After cooking for 4-5 minutes, flip and baste other side.
To assemble burgers: Spread chipotle sauce on both sides of open potato rolls. Place patty in bun and top with caramelized onions. Serve along side sweet potato fries, take a big bite and enjoy!
For those sauce lovers (like my hubby!), can be served with additional Mango BBQ sauce on side!