I would not like them
here or there.
I would not like them
anywhere.
Not on a train! Not in a tree!
Not in a car! Sam! Let me be!
I would not, could not, in a box.
I could not, would not, with a fox.
I will not eat them with a mouse
I will not eat them in a house.
I will not eat them here or there.
I will not eat them anywhere.
This is how my son feels about tomatoes. He will swear up and down that he they are yucky and gross. My daughter will beg for a snack of sliced tomato.
We are always trying to reinforce to the kids, that simply because you do not enjoy a food in its straight up natural state, does not mean you will not enjoy the flavor it adds when combined with others.
I decided to test my theory that if you say 'pizza' and 'bacon' and there is instant cooperaiton.
Prepare for the begging.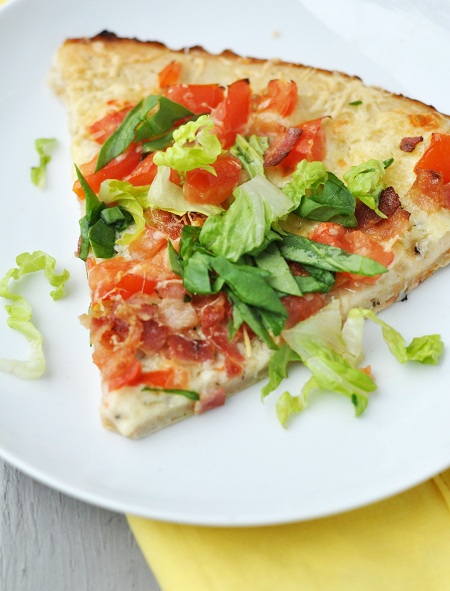 Bacon, Lettuce and Tomato (BLT) Pizza
Ingredients:
1 whole grain or whole wheat pizza shell, or make your own (I used the Ciabatta shell from Trader Joe's)
A few ounces Gouda, shredded (I grated the cheese over the pizza so did not measure)
1-1.5 organic tomatoes, chopped
4 slices of bacon, cooked and chopped
A handful of baby spinach, roughly sliced
A small handful of romaine lettuce, roughly chopped, optional
Directions:
1. Preheat own to manufacturer's instructions for pizza shell
2. Place the pizza shell on a baking pan or pizza stone. Scatter the cheese over the shell.
 
3. Scatter the tomatoes over cheese followed by the bacon.
4. Bake according manufacturer's instructions for pizza shell or until the cheese is melted and the bacon and tomatoes are warm.
5. Remove the pizza from the oven, top with the baby spinach.
 My son has stated for three days now that 'he LOVES this pizza'. Not pulling your leg.