I have something to admit. This admission may cause me to join the ranks of the 'What she thinkin?' Club but I am fine with that. In fact, elect me the President if you must.
I love when my babies sleep with me. Granted, they are now 5 and 7 but I love when one of them comes to me every once in a while with puppy dog eyes and ask if they can sleep with me. Now, this does not occur too often but last night my son slept right next to me. This caused me quite a bit of unrest.
See, when one of my children is next to me sleeping, I can't hep but stare. I am in awe of them and that my husband and I created them. It's magical to me and seeing that most of us don't take kindly to our parents staring at us for 5 minutes increments during the day, I love this staring opportunity.
I climbed into bed and was reading a book but kept finding myself putting the book aside while I stared at my son. My husband came to kiss me goodnight and caught me staring with moist eyes and said 'Isn't he handsome?' (same scenario with my daughter saying 'Isn't she beautiful?') Yes indeed.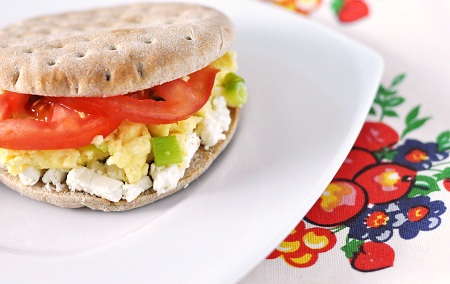 Naturally, this staring at my son until 1 am and not eating until 10 am this morning made me feel a bit cranky. In fact, I was doing a touch of weight lifting at the gym this morning when realized I had not eaten breakfast yet. As I drove home I knew what I was going to make: this sandwich that I made for a friend last week.
Egg, Scallion, Feta & Tomato Breakfast Sandwich Recipe
1 organic egg
1/2 scallion, chopped
1 tablespoon feta, crumbled
1-2 slices of organic tomato
2 slices of your favorite bread or sandwich round
salt and ground pepper, optional
olive oil spray
Directions:
1. Spritz a pan with non-stick spray and heat over medium heat. Scramble an egg and pour into the heated pan.
2. Lightly toast the bread. Add the scallions to the eggs and allow to cook.
3. Scatter the feta over the eggs or the bottom piece of toast. Top with eggs, tomato and top piece of bread. You may not need any salt due to the feta.
What are some of your favorite breakfast foods?