Rain, lots of rain. Didn't matter to us as there was no way that we were not going to have tons of fun. We were at Six Flags New England where you Go Big or…well, you know!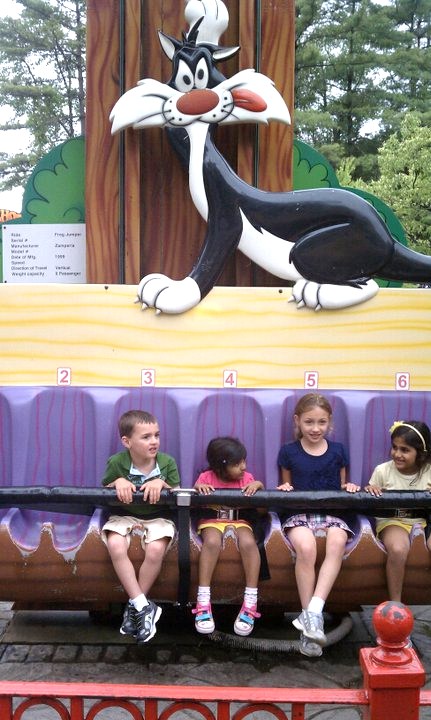 Back in June we took part in a media press trip and had the most lovely of a guide who even a month later, my kids beg to see. Let.me.tell.you, if you ever have the opportunity to hire a VIP guide, do it! Gather the family reunion attendees and have them pitch in some cash as you will get some behind the scenes low down, skip the long lines and even have someone who will go on the rides with the kids that you don't want to go on.
I had not been to Six Flags New England, New England's largest amusement park, for many many years. In fact, the last time I was there it was called 'Riverside'.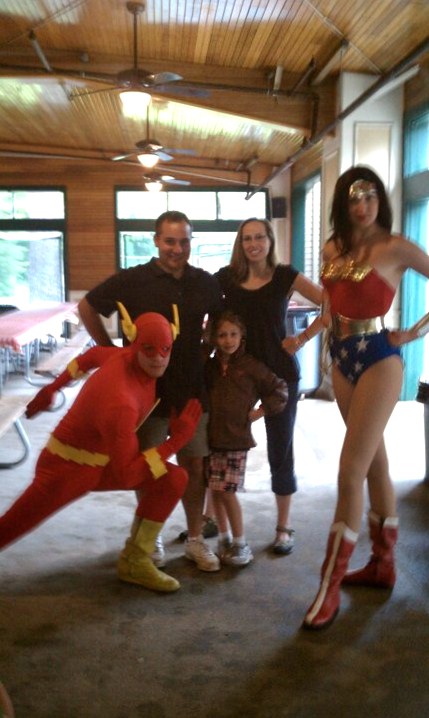 Seeing all three of the areas dedicated to the kiddos (Kidzopolis, Looney Tunes Movie Town and Splash Island) as well as all of the grown-up attractions was incredible. Our kids were into trying everything!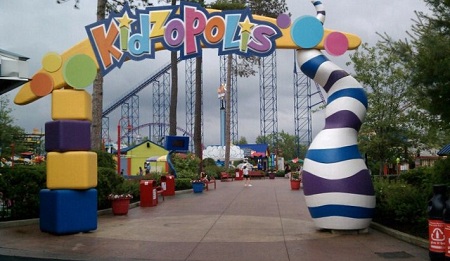 There is so much to do for any age group that there is no way anyone could not have the best time eva! I promise.
In fact, after they rode the new 'Gotham Gauntlet' with me, I referred to them as 'Adventure Boy' and 'Adventure Girl'.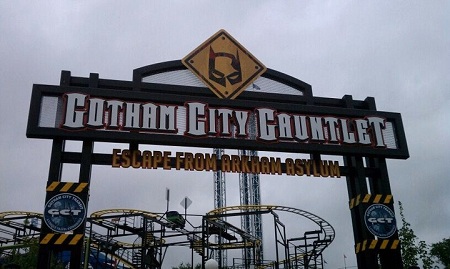 We planned on playing in Hurricane Harbor, the largest water park in New England (included in the park admission) but along came the Thunderstorms. The park had to close due to safety issues and considering tornadoes had passed through the week before, I can't blame them.
We are going back this month to spend an entire day at Hurricane Harbor.
Here are some other important facts you need to know about the park:
*Right now if you buy a day for $46.99 you get another day FREE – no kidding!
*There are 3 new shows for the 2011 season – Survivor Live, Do Wop N Bop and Vocal Acceleration
*The concerts (hello, Miranda Cosgrove) are also included with admission !
*Six Flags New England is home to 10 amazing coasters including the top ranked steel coaster Bizarro. My kids giggle as I had made the statement that wen they are teenagers, they will want to ride this coaster. *I am shuttering*
Would you like to win a Family 4-Pack??! Well then you are in the right place!
To enter, leave the answer to this question in a comment below: What is your favorite childhood amusement park memory?
For additional entries (you must leave an additional comment on this post for each entry):
*Join my Community on Facebook and leave a comment on the wall that you have entered the giveaway.
*Tweet this giveaway, "Win a family 4-pack to Six Flags New England from @savorthethyme and @sixflags  'http://alturl.com/tjysg'. be sure to come back and leave the tweet URL.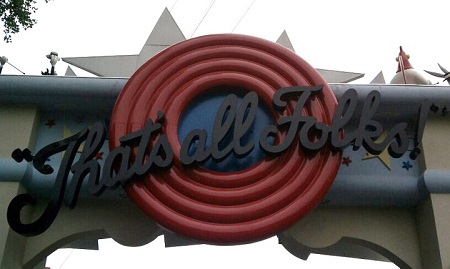 Contest ends 11:59 pm on Monday, August 1st, 2011