Shhhhhhhh….I have a secret. A recipe from the Secret Recipe Club that is. Today's choice is super fresh and sparkly but contains no bubbles.
The secret recipe is a Green Bean Salad by Joanna at Cairns Manor.
Green Bean Salad Recipe adapted from Cairns Manor (easily serves 8 as a side dish so half it for a smaller group)
2 pounds green beans, trimmed
2 sweet peppers, julienned
1/2 English cucumber, julienned
1 large organic tomato, cut into small wedges
2 tablespoons extra virgin olive oil
3 tablespoons white wine vinegar
1 tablespoon dijon mustard
Salt and Pepper to taste
Directions:
1. To steam the green beans, place a steaming basket into a pot with just enough water to touch the bottom of the steaming basket. Fill a large bowl with ice and water and set aside. Bring the water to a boil and steam the green beans for 4 minutes, until they are tender crisp and a bright green color.
2. Drain the beans and submerge in the ice water to stop them from continuing to cook. Once the beans are cool, drain them well.
3. In a large bowl, mix the peppers, cucumber and tomato with the green beans and fold gently to combine.
4. Whisk together the oil, vinegar, and mustard. Add salt and pepper to taste and pour over the green bean mixture and toss well. Serve immediately.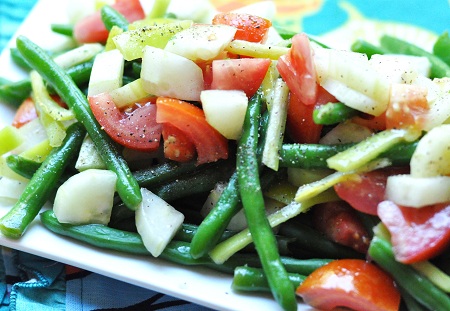 Learn more and join in the Secret Recipe Club and be sure to stop by Cairns Manor and say 'Hi'